A brand new circus show called FENCE has been launched on our Battambang campus! This new performance is the fruit of a collaboration between our Performing Arts School and the Austrian Theater Der Sprachfehler. Its authors Andreas Jaehnert and Christian Kuehne spent quite some time among our Phare family to put into shape the Theater's first artistic exchange in Asia.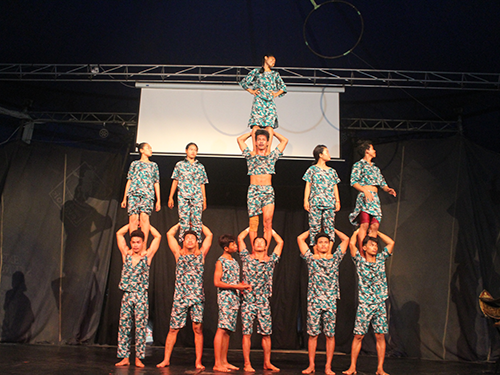 The concept: FENCE indicates a separation. A fence separates spaces, people, ages. The key narrative of this play develops a virtual reality ruled by an imaginary king, built on Cambodian and western symbols and traditions. Throughout the history of mankind, people have always built up communities and societies, setting rules and instituting kings and governments. This show investigates the birth of such a structure, and questions whether it is necessary to abandon the moral concepts of "good" and "bad" if we want to pursue a "higher cause" called prosperity.
The story: A group of young people meets in a circus tent. They have all heard the news and want to see the crowning of the new king. This emblematic figure named Vanara has been brought to them by a couple of strangers who arrived by plane. Also, the visitors have carried a bunch of circus tools with them and offer them to the people of the village. The rise of King Vanara will bring new ideas, work and hope to the people. But the new institution will also tend to set new rules, build up new identities and control the villagers' lives. The story follows a sequence of scenes about work, violence, love and relationships between people that have been acquainted for years and suddenly realize their differences as they access the new reality brought by the king.
"In the western world Cambodia is classified as a «developing» Country. We've been attracted by this definition and wanted to know what inter-human relationships do look like. Also, as I have already lived and worked in Battambang for a few months in 2012, I was in contact with Phare Ponleu Selpak. This relation has made it possible to work together on this new project, FENCE." – said director Andreas Jaehnert.
"What we have found in Cambodia is a reality that is very far from the Western world – with its own challenges and opportunities – that entertains a very complex relation to the other Asian countries and to the Western NGOs and governmental institutions. Apart from that, if we look at the people and their everyday life, it is a country of immense richness that we can only respect." – added co-director Christian Kuehne.
"We got really excited about the idea of FENCE after our discussions with Andreas and Christian. The fence symbolizes the border to a new world. It represents the last hurdle that separates all nine actors from their dreams. The nine travelers who meet at the fence start talking to each other, and find out that they are fleeing an enemy, their innermost ghosts, a regime; each has its own reason for the journey, and it somehow unites them. It is a story we want to tell, since our founders, staff members and students have insights to add to this performance. And it makes it unique for us!" – said KHUON Chanreaksmey, Deputy Director of the Performing Arts School of PPS.

For further details of the idea creation behind the story please visit: http://www.theaterdersprachfehler.com/fence/
Authors: Andreas Jaehnert, Christian Kuehne
Director: Andreas Jaehnert
Co-director: Christian Kuehne
Video: Dara Chea, Christian Kuehne, Andras Jähnert
Cut: Dara Chea
Photo credit: Christian Kuehne
Artists: Mony Ratanaksambath, Nov Sreyleak, Brak Panhasothearith, Horn Vanna. Keo Lanin, Vorn Sreyneang, Ly Chamroeun, Boeng Phinak, Srey Chanpitou, Thia Smnang, Chan Thit, Sith Sitha, Krot Sovannara, Phorn Chhorda, Nem Tharo
Music: Chorng Sreypov, Dos Sela, Morm Sokhmera, Oun Vila
Teachers: Sam Monny, Nem Chanthoeun, Khuonthorn Chamroeun, Huot Heang
Translators: Kong Soutin, Khuon Chanreaksmey
The energy and open-mindedness of these French teenagers, as well as the friendliness of the Cambodians who shared their passion for circus, dance and culture made the stay a very pleasant experience for all. Thanks to the CCAS for the trust they have shown to Phare Ponleu Selpak for many years. Thanks to the organisers from both countries who collaborated together so that everything would go perfectly.
We hope that this trip will remain etched in our memories for a very long time.
A big thank you from the Phare family.