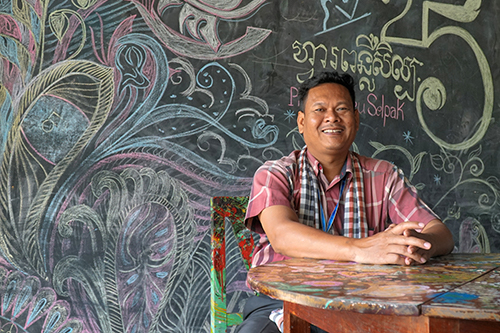 Khuon Det
Co-founder, artist and Performing Arts School Director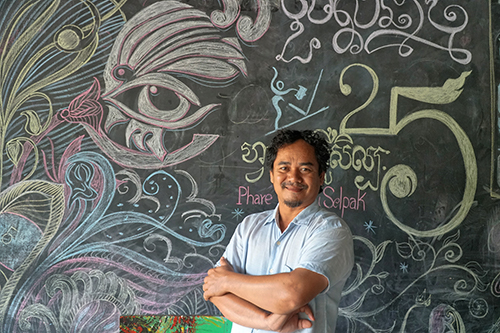 Srey Bandaul
Co-founder, artist and Head of Community Outreach Engagement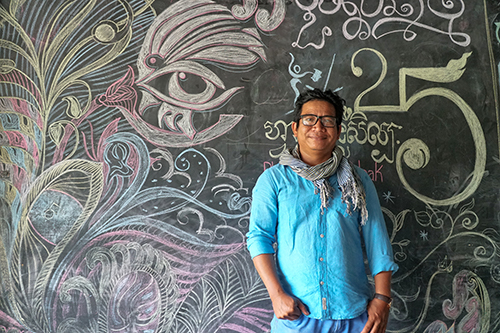 Thor Vutha
Co-founder, artist, Visual & Applied Arts School Pedagogy Deputy Director and teacher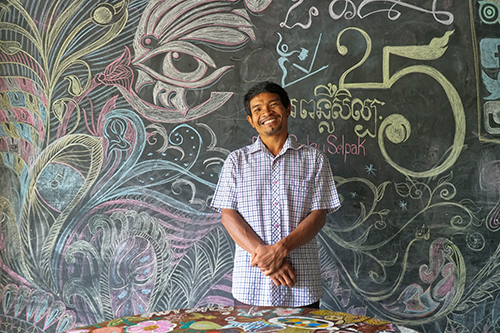 Lon Lao
Co-founder, artist and Visual & Applied Arts School teacher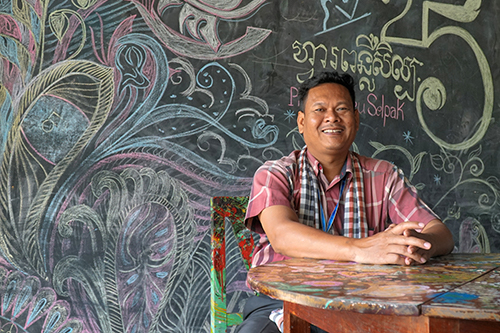 Khuon Det
I was feeling very lonely on Site 2 because I had no family there. Besides drawing, I was taught martial arts and acrobatic gymnastics as part of an army training program. I used these skills to defend myself as life was difficult in the camp for a lonely child. When I left, I felt I needed to discover my own Country that I had to flee from many years ago, and travelled through Cambodia. When I came back to Battambang, the beginnings of Phare Ponleu Selpak were hard, we were lacking everything but it created a deep sense of solidarity among us. Unlike the other founders, I felt drawing was not sufficient to channel my energy and overcome my own trauma, so I decided to create a circus school in 1997. I have been working on developing international exchanges since then, building capacity in performing arts and bringing the good practices from renown foreign companies to our Performing Arts School. Arts changed my life and helped me believe in a brighter future. Every child deserves that! Besides training professionals, my work is directly linked to the duty of remembrance: our shows bear the weight of powerful symbols related to Cambodia's history.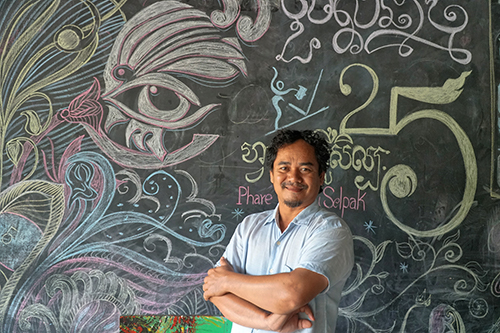 Srey Bandaul
Drawing has always been a powerful tool on my life path and as part of the history of Phare Visual Arts School. When I was in the Thai refugee camp site 2 in 1981, I used a stick of wood to draw Buddhist images on the earth. I was also inspired by scenes from Chinese movies, played once a month in the camp. When I had my first class with Veronique Decrop, I learned how to draw based on observations of our world. "Draw what you see!" as she used to say. Today the youth have more choices when it comes to developing a professional career. It is important to adapt the curriculum of our school and secure job opportunities. We want to provide the students with a complete set of technical skills, a strong fundamental and cultural knowledge of the arts, and the ability to understand, analyse, and respond to a given problem with professionalism and creativity. We have become a big family, bound by the passion for drawing and art… I really hope a bright future is coming for the next generations!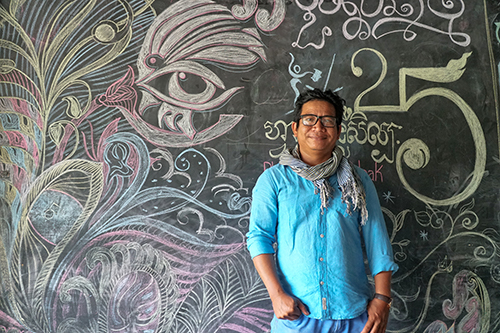 Thor Vutha
The first time I met Veronique Decrop in the refugee camp, she asked me: "what do you want to do?" …I answered that I wanted to draw. Then, with some basic tools my first drawings were created, imbued with the civil war. When we came back to Battambang, the main purpose of starting a drawing school was to share and talk about trauma with children who faced difficult social issues. I really started to understand Cambodia at this time and realized that I wanted to improve my artistic skills and knowledge. Developing social dialogue through a better access to culture and education became the foundation stone of our project. It was in 2001, after having tried different paths, that I got completely involved in teaching at the Visual Arts School. When I think about the future of our students, I really want to help them to become accomplished professionals, both in an artistic and technical way, help develop confidence in their work and capacity for adaptation.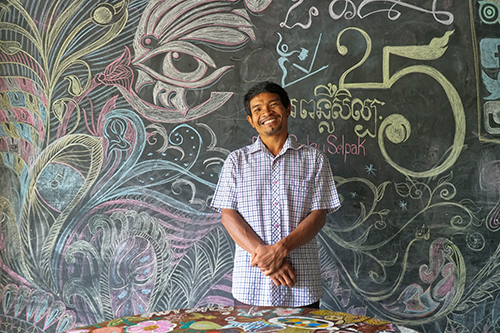 Lon Lao
At the refugee camp site 2, the drawing classes helped me to spend my time productively, and brought some order to my life. I've been part of the Visual Arts School in Battambang since its origins, trying to pass this on to my students too. I started teaching class in 1994, specializing in drawing techniques. The strength of this project was the friendship within our group of founders… We were barely twenty years old, and had a big challenge ahead of us. It will take time to be more confident with the new curriculum, but with all my knowledge and experience of the drawing fundamentals, I expect to bring strong skills to my students that will help them in their future professional life. On the top of that, I take great pleasure from doing something I love every day!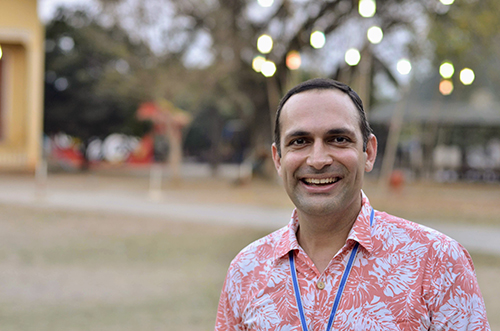 KHAWAJA Osman
Executive Director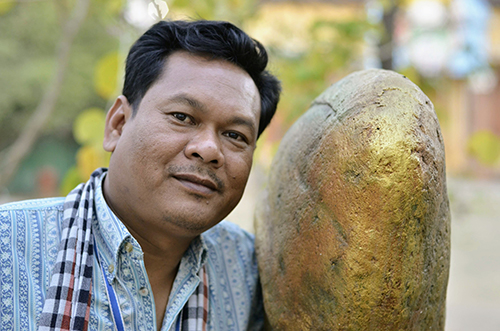 KHUON Det
Performing Arts School Director
PHO Samet
Social Support Program Manager
TO Loeurt
Program Manager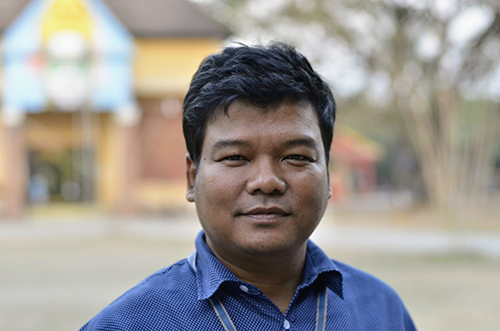 KHUON Chanreaksmey
Deputy Director of Performing Arts School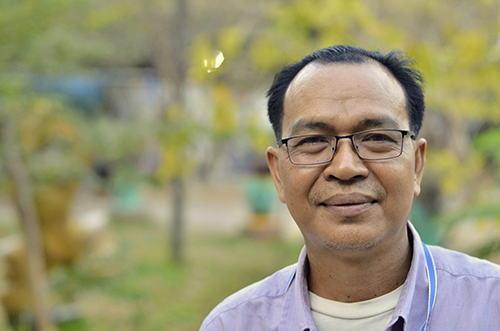 KHLOTH Sareth
Human Resources Manager
SAMBATH Reaksmey
Visual and Applied Arts School Director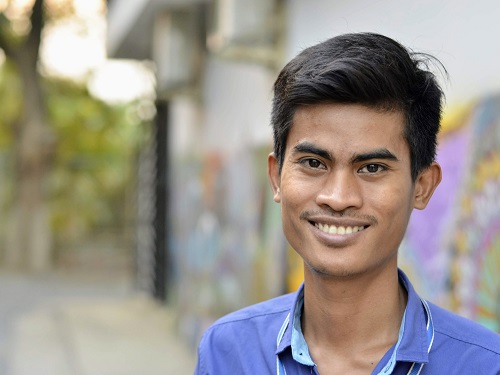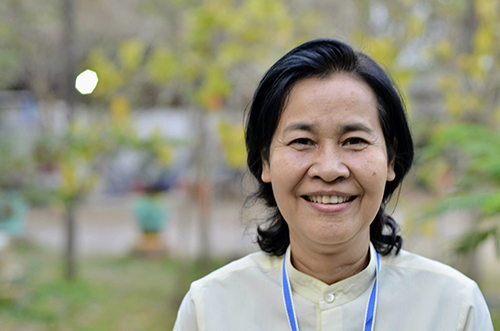 PRANG Nhary
Education Program Manager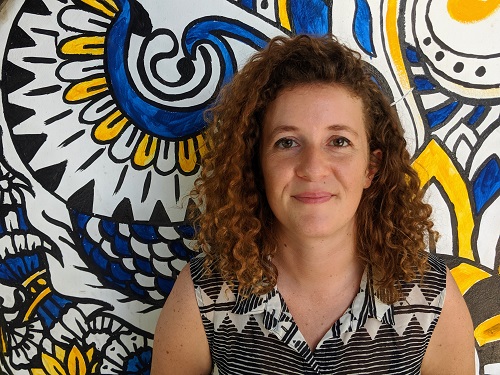 Morgane DARRASSE
Media, Communications & Marketing Coordinator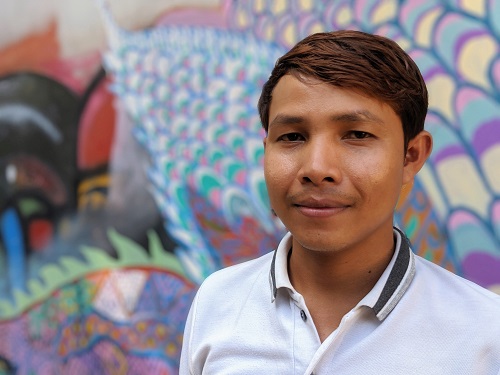 Sonrin BUTH
Graphic Design Lead Teacher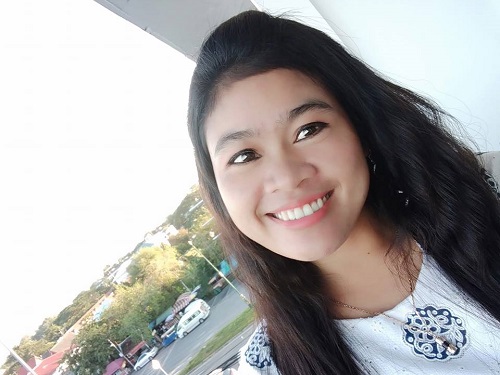 Heang HUOT
Performing Arts School Pedagogical Coordinator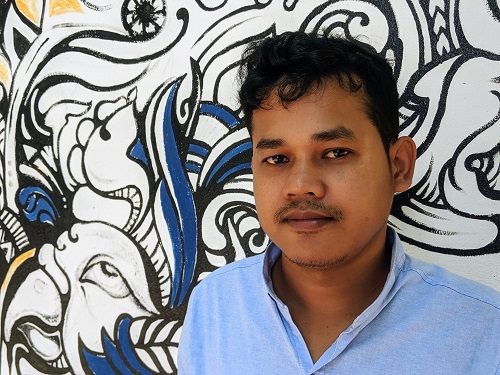 Dara CHEA
Animation Lead Teacher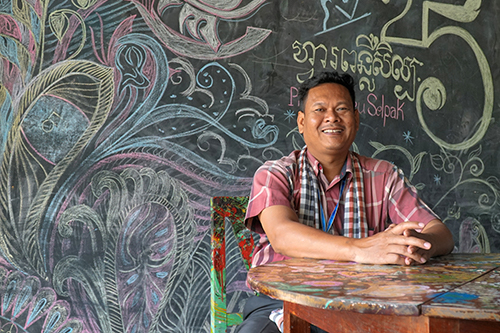 Khuon Det
Co-founder, artist and Performing Arts School Director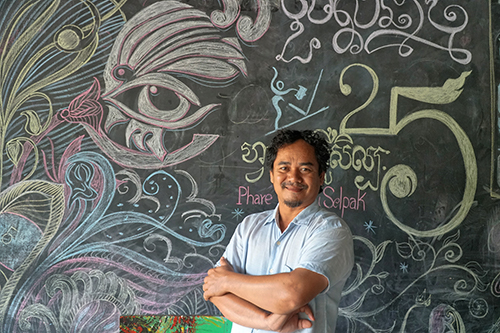 Srey Bandaul
Co-founder, artist and Head of Community Outreach Engagement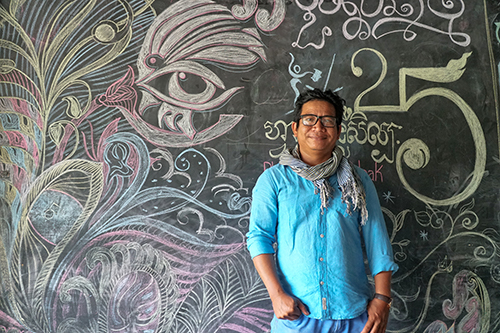 Thor Vutha
Co-founder, artist, Visual & Applied Arts School Pedagogy Deputy Director and teacher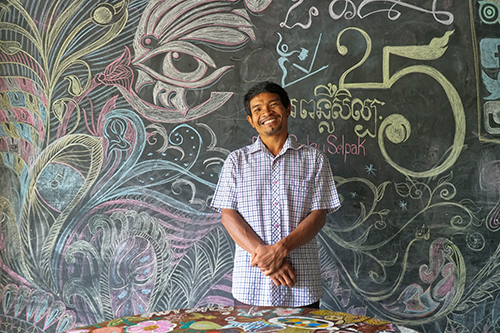 Lon Lao
Co-founder, artist and Visual & Applied Arts School teacher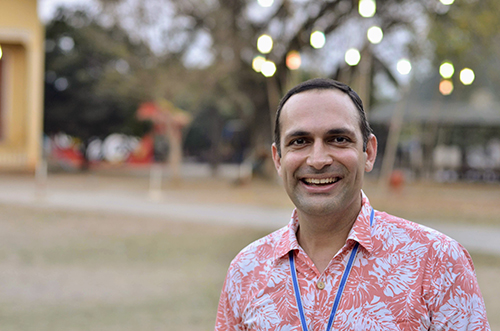 KHAWAJA Osman
Executive Director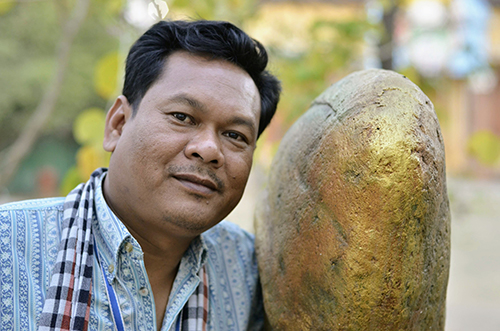 KHUON Det
Performing Arts School Director
PHO Samet
Social Support Program Manager
TO Loeurt
Program Manager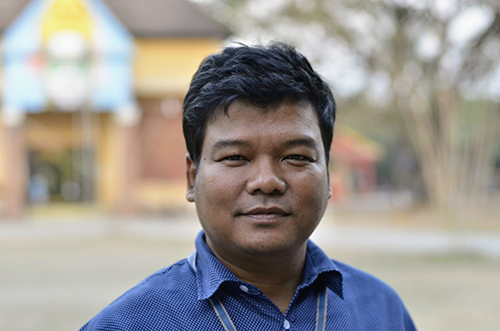 KHUON Chanreaksmey
Deputy Director of Performing Arts School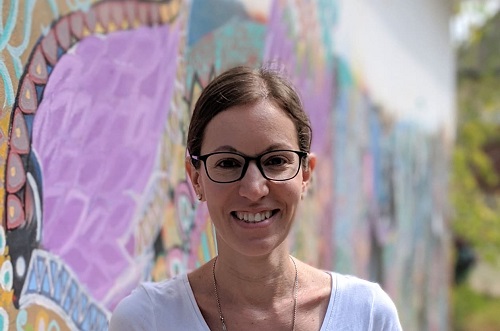 BALDINGER Sigrid
Development and Communication Manager
SAMBATH Reaksmey
Visual and Applied Arts School Director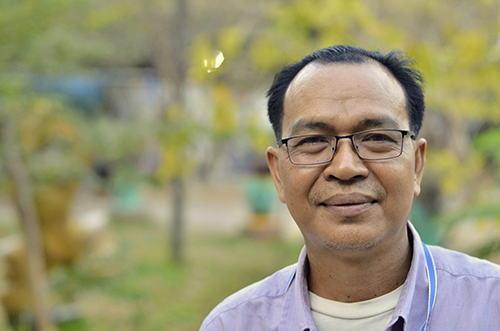 KHLOTH Sareth
Human Resources Manager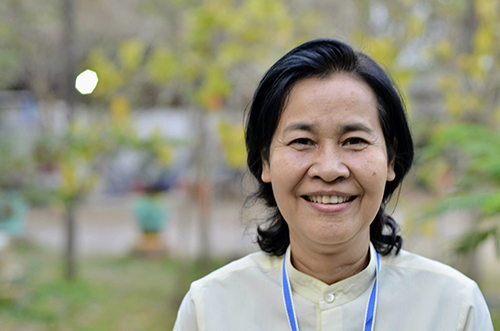 PRANG Nhary
Education Program Manager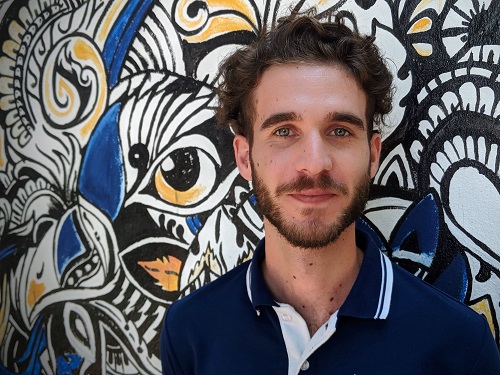 Jeremy BROCARD
Grants and Fundraising Coordinator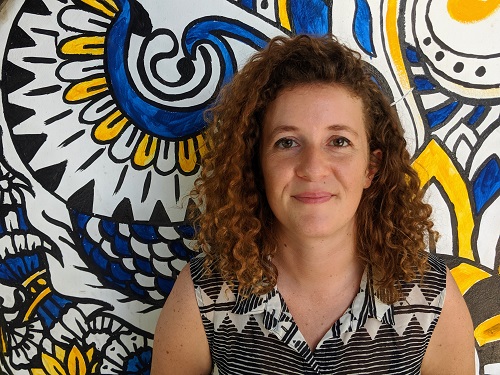 Morgane DARRASSE
Media, Communications & Marketing Coordinator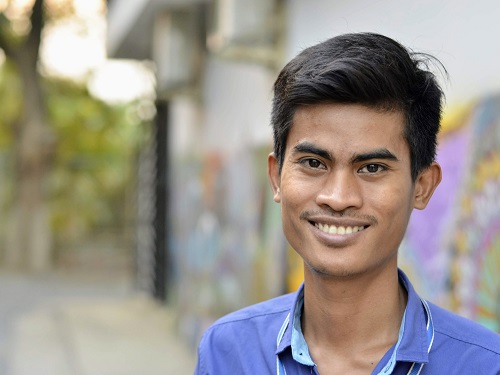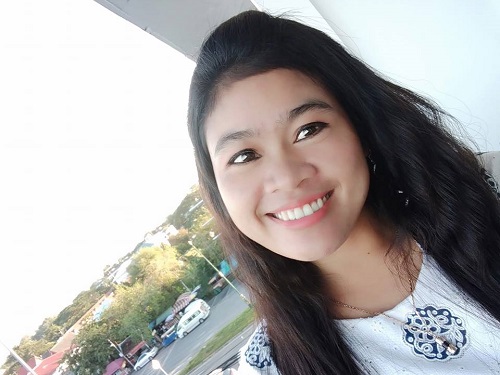 Heang HUOT
Performing Arts School Pedagogical Coordinator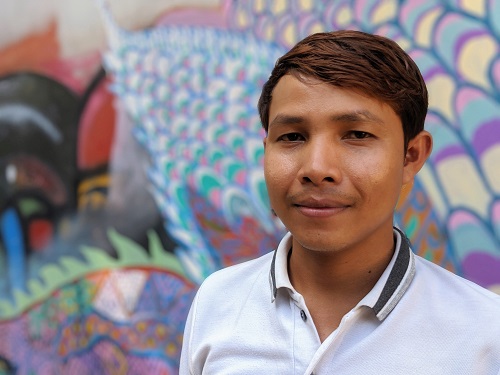 Sonrin BUTH
Graphic Design Lead Teacher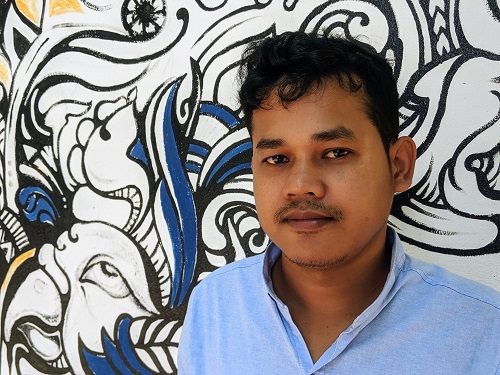 Dara CHEA
Animation Lead Teacher