Visual and Applied Arts School
Admission    

Career Development   

Teachers    

Wat they say?
Leisure Classes

 are open to all children between the ages of 6-12 years.
Academy Classes are open to all children and adults.
Preparatory Classes are open to anyone 16 years of age or older. It is recommended to complete this one-year program before applying for the Professional program.
Vocational Education & Technical Training is open to all interested students over the age of 17. Students must pass the entrance examination to enroll.
The entrance examination for the Vocational Education & Technical Training consists of:
Drawing test (live model)
Artistic expression (subject given)
Redaction writing (image analysis)
Oral interview with the juries (comments on artistic expression test, personal portfolio and motivation)
The Visual and Applied Arts School prides itself on preparing students for exciting careers in the fields of graphic design, animation, or visual art. Students who complete the three-year vocational training course will have the skills and experience necessary to enter the job market with confidence.

Career Development at VAAS
2 month internships at the end of year two
creation of print/online portfolios, video presentations, & business cards
Interview training & support
Access to a professional Job Facilitator
Access to VAAS network of partner companies, organizations, and individuals
To create professional opportunities for graduates, Phare Ponleu Selpak opened the social enterprise: Phare Creative Studios, a graphic design and animation studio catering to clients within Cambodia and the international community.
Furthermore, in 2016, VAAS students interned with the following organizations:
| | |
| --- | --- |
| Specialization | Place of internship |
| Graphic Design | Tonlé design (Zero waste fashion company) |
| Animation | Camant (Animation Studio) |
| Visual Arts | Romcheik 5 & Petra Studio (Art galleries) |
| Visual Arts | Petra Studio (Art Gallery) |
| Graphic Design | Pkay Pich (Graphic design solutions) |
| Graphic Design | Sipar (Literacy NGO) |
| Graphic Design | Nature Publishing House |
| Graphic Design | Bric-A-Brac (Hotel & Crafts shop) |
| Graphic Design | Blue Elephant (GD & animation studio) |
| Animation | Blue Elephant (GD & animation studio) |
| Graphic Design | Eccho line Production (TV production) |
Srey Bandaul
Artist, teacher & founder of Visual Arts School
Story
Drawing has always been a powerful tool on my path through life and as part of the history of Phare's Visual Arts School in Battambang. In 1981, my first experience was to use a stick of wood on the earth floor to draw Buddhist images in the refugee camps. Later, I was inspired by scenes from Chinese movies, performed once a month in the camp.
Then I had my first class with Veronique Decrop, learning to draw based on observations of our world. "Draw what you see!" as she used to say.
Once back in Battambang, the main purpose of Phare Ponleu Selpak was to use drawing as a tool to support children who faced difficult social issues.
We opened the school and since the first class over 20 years ago, there have been thousands of children who came to learn drawing, and almost 120 who gained employment in graphic design for companies, NGOs, or as independent professionals.
Today the young people have more choices when it comes to developing a professional career. It is now important to adapt the curriculum of our school and provide applied art job opportunities. We want to provide the students with a complete set of skills, strong fundamental and cultural knowledge of the arts, and the ability to understand,  analyze, and respond to a given problem with professionalism, creativity, technical skill.
We have become a big family, linked by drawing, and I really hope a bright future is coming for the next generation!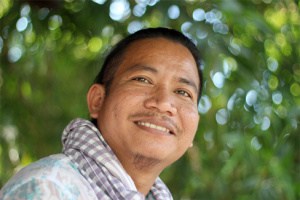 Thor Vutha
Artist, teacher & Visual Arts School founder
Story
When I first attended drawing classes with Veronique Descrop in the refugee camps of site 2 in Thailand, she asked me: "what do you want to do?" I answered that I wanted to draw. Then, with some basic tools my first drawings were created surrounded by the civil war.
When we came back to Battambang, the main purpose of starting a drawing school was to share and talk about trauma with the children. This was social work through culture and education. I really started to understand Cambodia at this time and realized that I wanted to develop my artistic skills and knowledge.
It was in 2001, after having tried different paths, that I got completely involved teaching at PPSA.
It is very hard to be an independent artist today. Thinking about the future of our students, I really want to help them to develop themselves, both in an artistic and in a technical way, with competencies in professional standards and strong capacities for adaptation.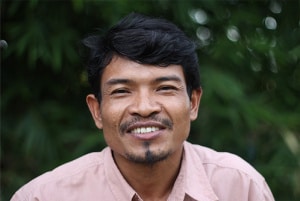 Lon Lao
Drawing, model teacher & Visual Arts School founder
Story
I've been a part of the Visual Arts School in Battambang since it's origins at the refugee camp. I started teaching class in 1994, specializing in drawing techniques. It will take time to be more confident with the new curriculum, but with all my knowledge and experience of the drawing fundamentals, I expect to bring strong skills to my students that will help them in their future professional life.
13 professional teachers
The team is responsible for the technical and artistic training of all the students. They are involved in curriculum development under the direction of educational leaders.
Technical and pedagogical training is offered regularly by expert outside consultants.
Teacher training: Many of our teachers are graduates of the Pivaut Nantes MJM school in Rennes, France.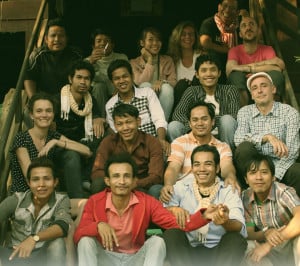 Sou Sophy
Khmer art / Color
Since I was a child, I have always been sensitive to artistic things, and my father encouraged me to attend the class at PPSA in 2004. 6 years later, I had the opportunity to complete my skills by teaching traditional painting. The new curriculum will make it easier to follow the progress of our students and bring them to the level needed for their professional future.
Kou Kunthea
Perspective / Painting / Drawing
I've known PPSA since 2001. Studying at a private school was too expensive and PPSA was the only organization to provide art training for free. After 3 years of study I became a volunteer teacher.  Our aim is to schedule and prepare lessons in order to bring students further in their professional lives.
Chea Dara
Animation / Drawing
I've known PPSA since 2004 through my sister. At first I only wanted to learn some simple things, but later on I became really interested in the lessons. I work for the animation studio and I specialize in flash animation. I would like to share my experience and technical knowledge with students.
Buth Sunrin
Graphic design / Illustration / Graphics
I found PPSA through my neighborhood. I started to learn how to draw on my first day at PPSA. I joined Sonleuk Thmey in 2009. We are now in a new project involving the graphic design school and animation studio. I hope that I have the capacity to share all my experiences and knowledge with the students of the next generation. I want to help the students to improve their skills, build their self-confidence, and find good jobs.
Chea Serey Roat
Graphic design / Illustration / Volume
I started taking drawing lessons at PPSA in 2005 and finished in 2010. I continued my studies in graphic design at BIT school. I returned to PPSA and worked and trained at Sonleuk Thmey. I want to pass on all my knowledge to my students.
Norm Phanith
Animation / Perspective / Graphics
I started at PPSA in 2003 and became a part of the animation studio in 2007. As teachers of the new Visual and Applied Arts School in Battambang, we would like to teach and pass on our knowledge to students of the next generation, to improve their skills, to enrich and expand the graphic design and animation field towards international standards.
Chim Lik
Animation / Drawing
I studied drawing for 4 years, and then worked at 1000hands animation studio for two years. I would like to share my experience working on the different projects of animation movies within the studio.
Yuom Sokoeurt
Animation / Drawing
I've known PPSA since 2004. I started working in animation as an animator assistant after my 4 years of drawing classes. Now, I am a studio employee working as a flash animator and I am involved in teaching all my knowledge to the students.
Dam Soeurt
Perspective / Animation / Graphics
I've known PPSA since 2003 through my brother. I started working in animation in 2007 as a background color designer. I would like to share all of my experiences in animation with students to give them the opportunity to gain even more knowledge than I have.
PERSPECTIVES – STUDENTS & GRADUATES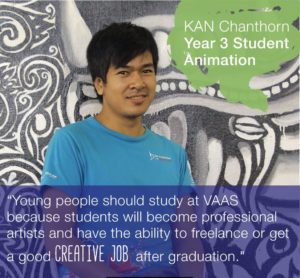 KAN Chanthorn, Animation Student
I am a student in Animation class and I believe in my ability to work locally in Cambodia. I have the opportunity of a career in the arts and the ability to freelance, choosing and prioritizing a job based on my interest. Young people should study at PPS because students will become professional artists based on the skill that they have selected. I am confident that I can get a good job after graduation.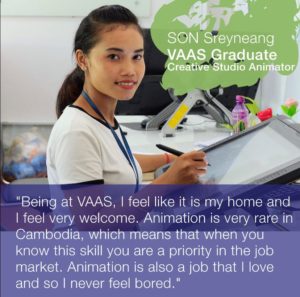 SON Sreyneang, Animation Graduate
I am very happy at VAAS, I feel like it is my home and I feel very welcome. Teachers are high quality and I can choose my skill, there are a lot of skills to choose from. A creative job in Animation is a very rare skill in Cambodia, which means that when you know this skill you are a priority in the job market. It is also a job that I love and I never feel bored. I want more students to join the program. It would be good to have more students in the next generation of artists.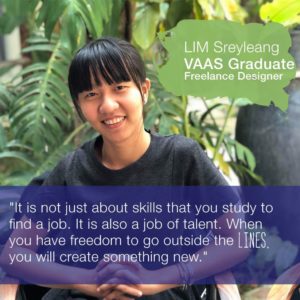 LIM Sreyleang, Graduate and Freelance Designer
I began my career in design while I was also in accounting school. Once I finished my degree at university, I came to VAAS full time. When I came here for the first time, I found my family, not just friends. We study together, we do everything together. When we have problems we always sort it out. It is not just the skill that you study and find a job. It is a job of talent. When you have freedom to go outside the lines, you will create something new.