The Visual and Applied Art School in Battambang is a first of its kind, high-quality, vocational art school offering everything from casual childrens art classes to professional training in graphic design, visual arts, and animation. VAAS seeks to contribute to a successful shift between the current agricultural economy and the industry and tertiary-based economy of Cambodia's future.
Access to solid, lasting employment is a core goal of the Visual and Applied Arts School. To secure solid jobs for our graduates, we have relationships with  over 40 companies around Cambodia, and the professional Phare Creative Studios is located in Battambang.
100% of VAAS students have found paid employment within one year of graduating.
01.
Submit the application form online, by e-mail or in print from August 30 to September 9.
02.
Do Admissions Test (September 15) students applying for Year 1 only.
03.
Acceptance announced on September 22.
04.
Process Financial Aid application – if required
05.
Agree to your placement letter & Financial Aid package (if required).
06.
Orientation begins the January 5, followed by the school year
Beginning classes at VAAS are divided into two subcategories, Leisure and Drawing Academy. Enrollment is free and open to all, depending only on the age of the student.
For children between 6 and 13-years-old
2 hours per session
Monday to Friday: 8 a.m. > 11 a.m. & 1 p.m. > 5 p.m.
These classes are meant for the students to discover their own personality, expressiveness and relationship to the world through art. It is carried out without the pressure of grades, with enjoyment at the center of learning.
No grades are given.
Students register at the beginning of the year and attendance in checked. VAAS has an open door policy to reach a greater number of students, eschewing the strict attendance policy of the school to better fit local habits.
Children over 13-years-old
3 hours per session
5 days/week: 8 a.m. > 11 a.m., 5 p.m. > 8 p.m.
This class proposes several skill levels that can be achieved step by step, depending on the students' abilities and commitment.
 Three subjects are taught: drawing, painting and
volume.
Students register at the beginning of the year and attendance is checked.
Vocational Education & Technical Training
The professional program at the Visual and Applied Arts School gives students the skills and experience they need to embark on successful careers in graphic design, animation, or visual arts. This is a 2 year program and students must take an entrance examination to enroll. All students are welcome to apply for the program.
This two-year course gives students the knowledge, skills, and experience needed to find employment in the arts industry. Students can choose from one of three disciplines: visual arts, graphic design, and animation.
VAAS CURRICULUM
Common core
Character Design (112h)
Perpective (48h)
Painting (112h)
Drawing (96h)
Model (112h)
Volume and Structure Anatomy (112h)
Sound (12h)
Video (128h)
Writing (136h)
Art History (48h)
Art Expression (120h)
Motion Graphic (48h)
English (64h)
Computer (64h)
Soft Skill/Life Skill (96h)
Animation Specialty
Storyboard (112h)
Layout (180h)
Toon Boom (144h)
Photoshop (32h)
Color BG (PS) (244h)
Animation Traditional (128h)
After Effects Compositing (48h)
Sound (48h)
Animation (192h)
Graphic Design Specialty
Graphic Design (48h)
Illustrator (156h)
Indesign-1 (150h)
Illustration (80h)
Photoshop (GD) (144h)
Packaging (144h)
Typography (144h)
Photography (88h)
Creative Design (84h)
Sketch-Up (56h)
Graphic design / Design layout, graphics, corporate identity, illustration.
Animation / Traditional and digital 2D
Visual arts

Image: drawing / painting / photography / video
Object: volume / sculpture / design
Space: installation / scenography / multi-media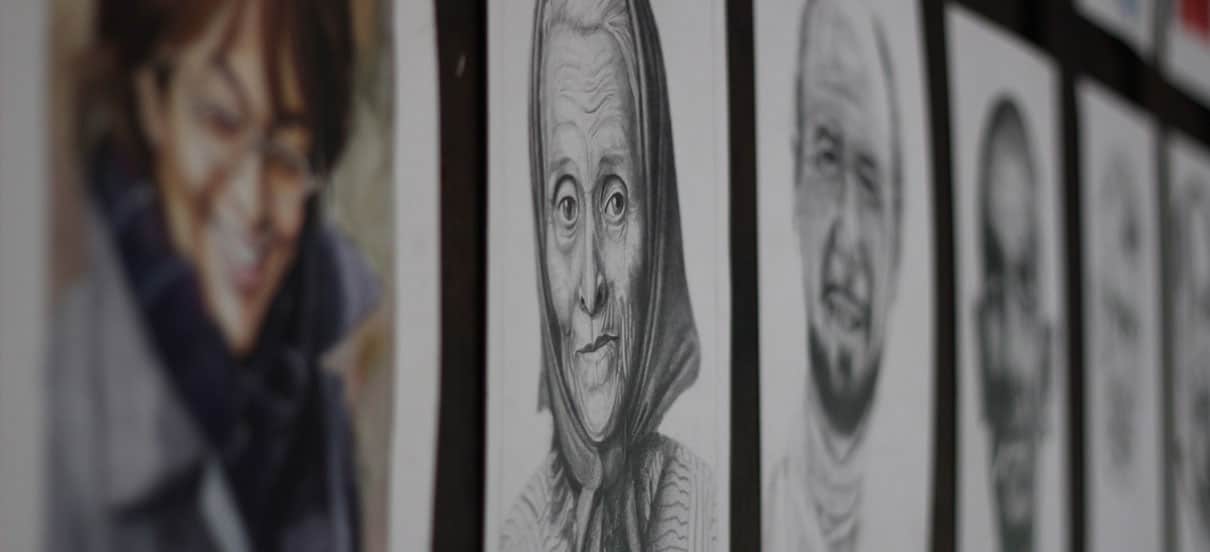 Visual art provides the basis for all other disciplines taught at VAAS, while also standing alone as a course of study . The fine art curriculum is the longest running program at Phare Ponleu Selpak. It was the first discipline taught at PPSA back in 1994. Even before the birth of Phare, our founders came together in the refugee camps in 1986 to study drawing with Veronique Decrop. Learn more of our fascinating origin story here.
Today, children of all ages are welcome at VAAS to study visual art as a technical skill, or enjoy casual classes. From kindergarten students attending painting classes, to young adults taking the vocational training, visual arts form the core of the curriculum throughout VAAS.
Visual Art Curriculum
It includes 384 hours of Visual Art. This lesson aims at develop the student's personal language and artistic personality. student address a visual Art in a non-segmented way (producing image, object and space, using a complete panel of technical skill and self-expression.
The Phare animation program at VAAS brings together basic drawing skills with illustration and design to create beautiful 2D films. Students in the vocational training program have the opportunity to create their own animation film, giving them the portfolio and skills needed to enter the field as professionals.
Take a look at the Animation Curriculum!
Phare animation students graduate with a portfolio including at least one animation film of their own creation, as well as skills and knowledge to work as a professional in 2D animation studios around the world. Graduates have gone on to become teachers and to work with our professional animation and design studio: Phare Creative Studio.
With the opening of the design studio Sonleuk Thmey in 2009, Phare Ponleu Selpak incorporated education on graphic design into its art classes in Battambang. Today, in the Visual and Applied Arts School, Graphic Design is part of the curriculum of the preparatory course, and  is a main discipline within the Vocational Education and Technical Training.
Take a look at the Graphic Design Curriculum!
The graphic design course at VAAS has quickly become one of the most popular programs on the Phare Ponleu Selpak Campus in Battambang. Graduates of this course have gone on to be successful freelance designers, in house designers, and teachers around Cambodia. Graduates can also find employment with Phare's newest social enterprise: Phare Creative Studio.
SCHOOL FACILITIES AND FEES

The three-year VAAS Vocational Program is worth $6000.
It costs approximately $2000 per year in direct school costs to educate one student. In addition to qualified teachers, a student at VAAS has access to excellent facilities, including: 40+ computers with graphic design and animation software, professional cameras and equipment, fully equipped photo studio and sound studio, art materials, and an art library.
Our school aims to be open to all students and operate as a non-profit school. We receive some support and subsidize costs so that the annual fee for our Vocational Program is reduced to $720.
While students are expected to invest in their own education, there are several options for students to pay under the Financial Aid Program.
My family can afford to pay the full fees
Apply and pass the Entry test
Register as a "full-fee" student
Pay $720.0USD to VAAS*
Begin study
My family can not afford to pay the full fees
Apply and pass the Entry test
Complete a Family Assessment
Agree to Financial Aid Package
Begin study, pay back VAAS with Financial Aid options
FINANCIAL AID FOR STUDENTS

Financial Aid is a new initiative that ensures VAAS' vocational program is accessible to ambitious students in Cambodia, regardless of one's social or economic background. The two streams of financial aid include scholarships and pay-back options.
Who can receive Financial Aid?

To be eligible for Financial Aid, students must be Cambodian, from a low-income family, and registered at VAAS in the 3-year professional program. PPS' Social Support Department will conduct a Family Needs Assessment to determine the level of financial aid.
Students enrolled in Preparatory Class do not need to pay fees and are therefore not eligible for Financial Aid. Scholarships and financial aid packages become available when students enter the professional program and need to start paying annual fees.
Students from low income families may receive a partial or full sponsorship that will reduce their annual school fee. A Family Assessment conducted by our Social Support team will determine the scholarship amount.
Students may also seek scholarships from non-governmental organizations or other sources. Once the scholarship amount has been deducted from the $720 fee, the student and their parents or guardians can use our "pay-back options" to pay the remaining fee. If a student is not eligible for a scholarship, they may still be eligible for a Financial Aid package.
Monthly contribution: a student's family or guardian can pay what they can afford every month, such as $10 per month.
Work on campus: a variety of job opportunities are available on campus; students can pay by working for a set number of hours.
Loan: students can pay back a non-interest loan when they graduate and start earning income. Terms and conditions apply.
*Examples of Financial Aid
Every family's situation is different. For families that can pay a higher "monthly contribution", the student will have fewer hours to work and no loan. To cater for everyone's situation, PPS' Social Support team will work closely with each family to create a Financial Aid Package.
Students currently living outside Battambang are encouraged to apply to VAAS. If accepted, we will support you to find local accommodation and settle into Battambang. Students eligible for financial aid may also receive financial support to pay for accommodation and living expenses.
Support for students enrolled in the VAAS Preparatory Class Some students in the Preparatory Class may be eligible for social support (i.e. free lunches, funds for materials etc.). A Family Assessment will determine the level of support.
How do I apply for Financial Aid?

1. Apply
VAAS Vocational Program: choose "financial aid" in your application and provide details on your situation
2. Assess
Family Needs Assessment: Social Workers will visit your household to collect economic and social information
3. Accept
– Financial Aid Offer: the student and their family or guardian will review the options (above) for paying their school fees.
– Financial Aid Commitment Letter and Agreement
Leisure Classes

are open to all children between the ages of 6-13 years.
Academy Classes are open to all children and adults.
Preparatory Classes are open to anyone 16 years of age or older. It is recommended to complete this one-year program before applying for the Professional program.
Vocational Education & Technical Training is open to all interested students over the age of 17. Students must pass the entrance examination to enroll.
The entrance examination for the Vocational Education & Technical Training consists of:
Drawing test (live model)
Artistic expression (subject given)
Redaction writing (image analysis)
Oral interview with the juries (comments on artistic expression test, personal portfolio and motivation)
The Visual and Applied Arts School prides itself on preparing students for exciting careers in the fields of graphic design, animation, or visual art. Students who complete the three-year vocational training course will have the skills and experience necessary to enter the job market with confidence.

Career Development at VAAS
2 month internships at the end of year two
creation of print/online portfolios, video presentations, & business cards
Interview training & support
Access to a professional Job Facilitator
Access to VAAS network of partner companies, organizations, and individuals
To create professional opportunities for graduates, Phare Ponleu Selpak opened the social enterprise: Phare Creative Studios, a graphic design and animation studio catering to clients within Cambodia and the international community.
Furthermore, in 2016, VAAS students interned with the following organizations:
| | |
| --- | --- |
| Specialization | Place of internship |
| Graphic Design | Tonlé design (Zero waste fashion company) |
| Animation | Camant (Animation Studio) |
| Visual Arts | Romcheik 5 & Petra Studio (Art galleries) |
| Visual Arts | Petra Studio (Art Gallery) |
| Graphic Design | Pkay Pich (Graphic design solutions) |
| Graphic Design | Sipar (Literacy NGO) |
| Graphic Design | Nature Publishing House |
| Graphic Design | Bric-A-Brac (Hotel & Crafts shop) |
| Graphic Design | Blue Elephant (GD & animation studio) |
| Animation | Blue Elephant (GD & animation studio) |
| Graphic Design | Eccho line Production (TV production) |
8 professional teachers
The team is responsible for the technical and artistic training of all the students. They are involved in curriculum development under the direction of educational leaders.
Technical and pedagogical training is offered regularly by expert outside consultants.
Teacher training: Many of our teachers are graduates of the Pivaut Nantes MJM school in Rennes, France.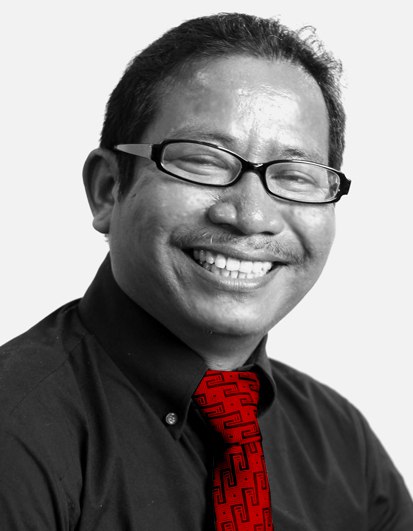 TOR Vutha
Co-Founder & Director of Visual and Applied Arts School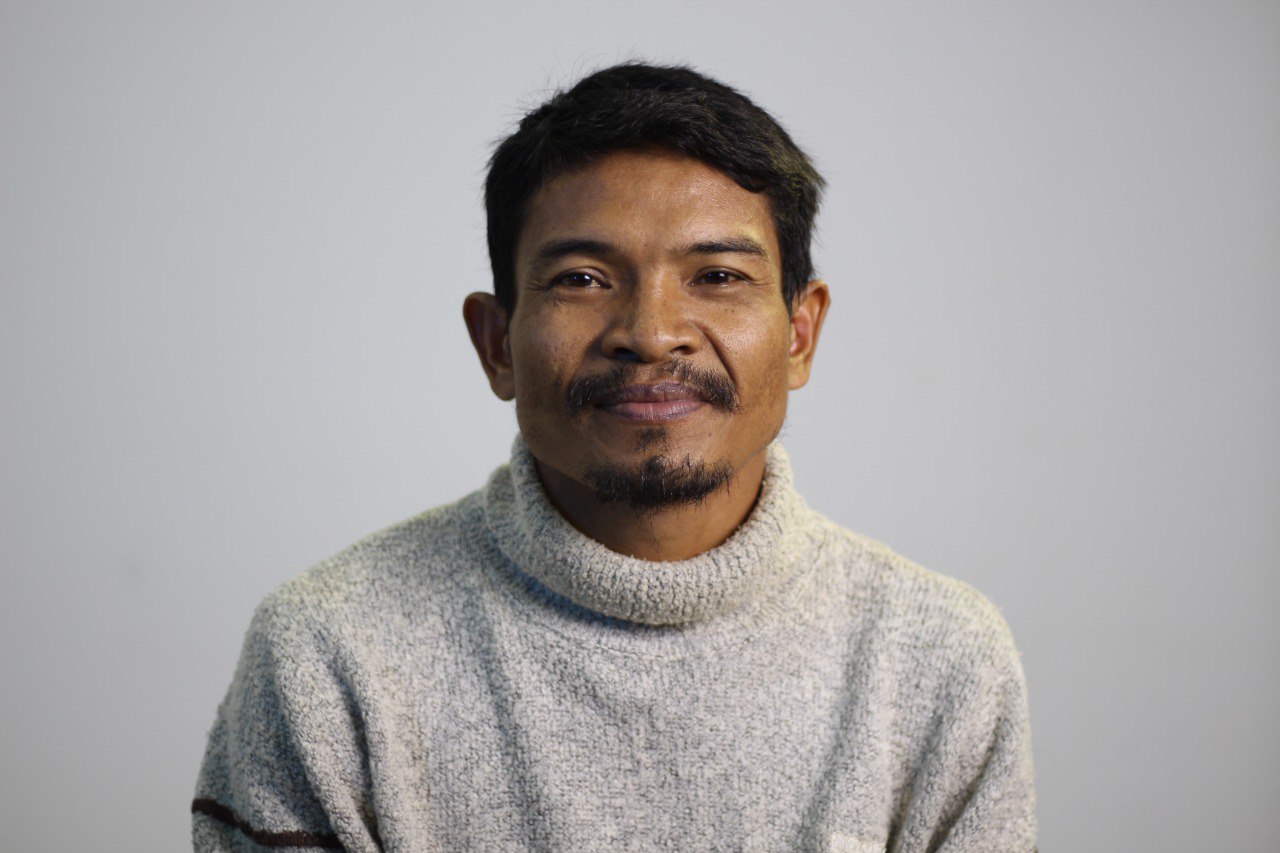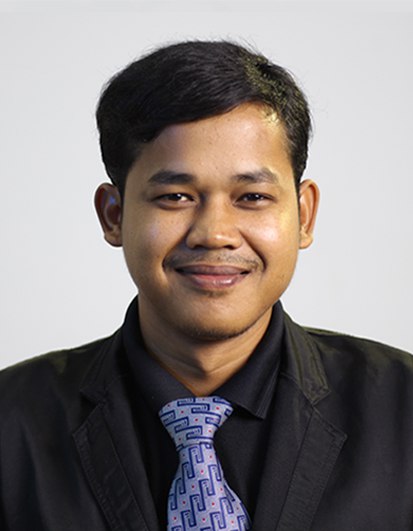 CHEA Dara
Teacher of Animation / Drawing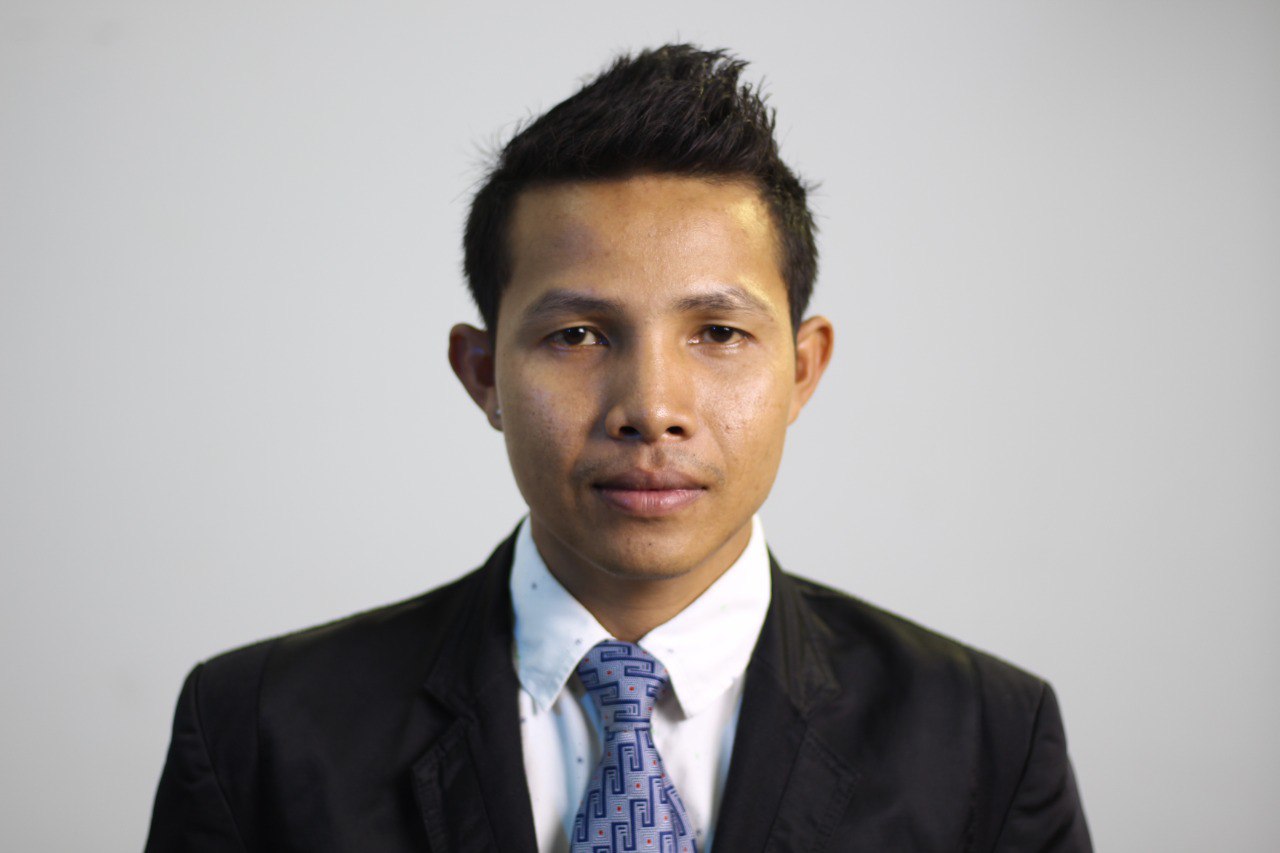 BUTH Sonrin
Teacher of Graphic design / Illustration / Graphics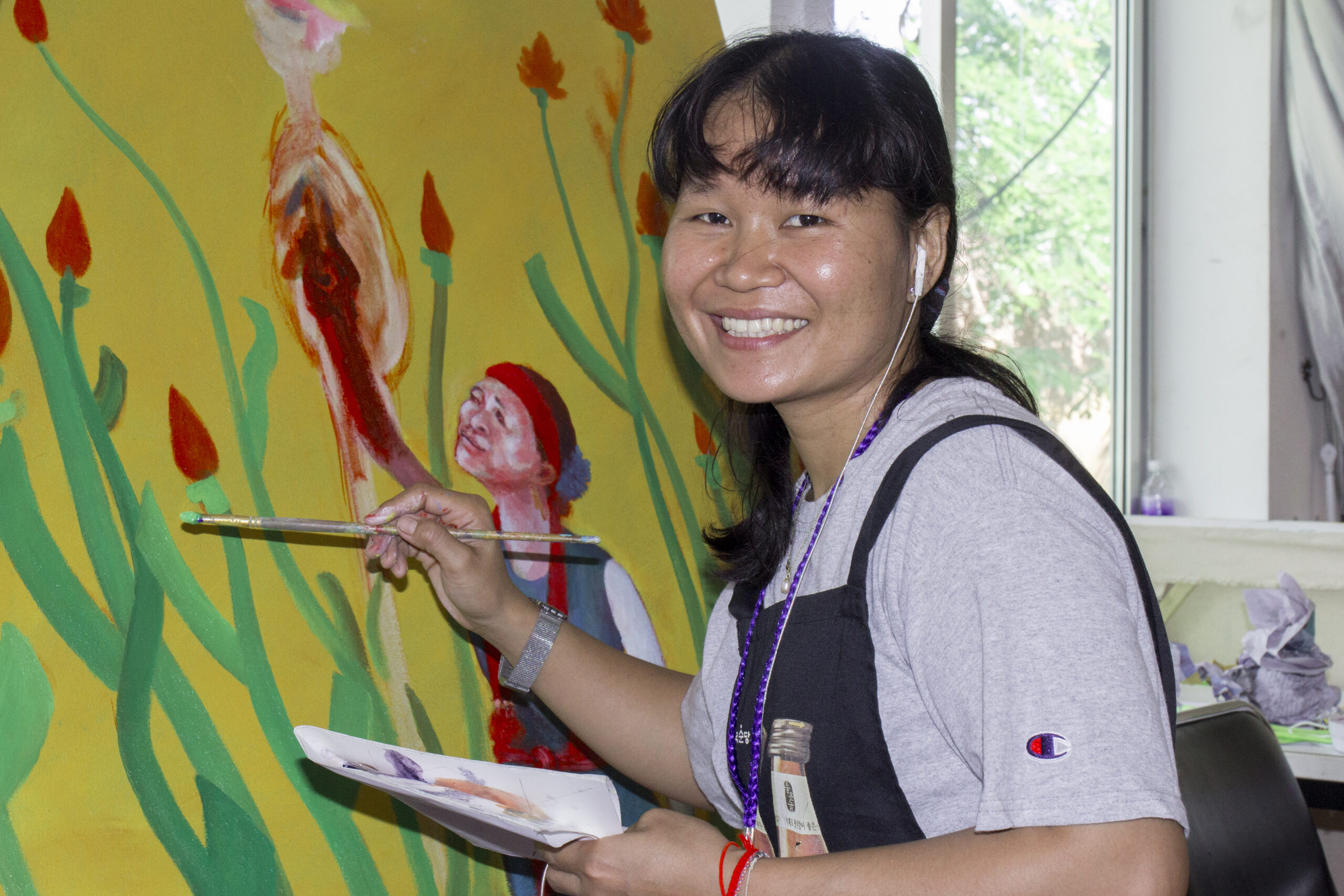 KOEURM Kolab
Teacher of Graphic Design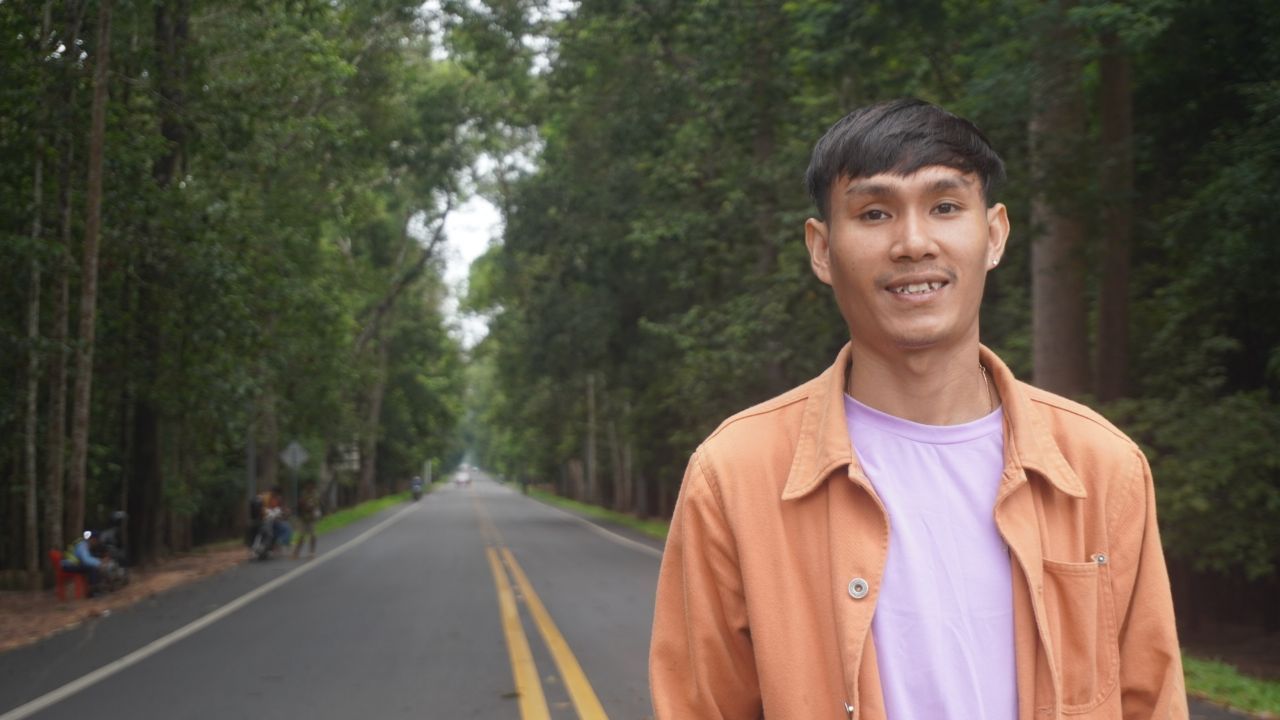 HIN Koem Yean
Teacher of Graphic Design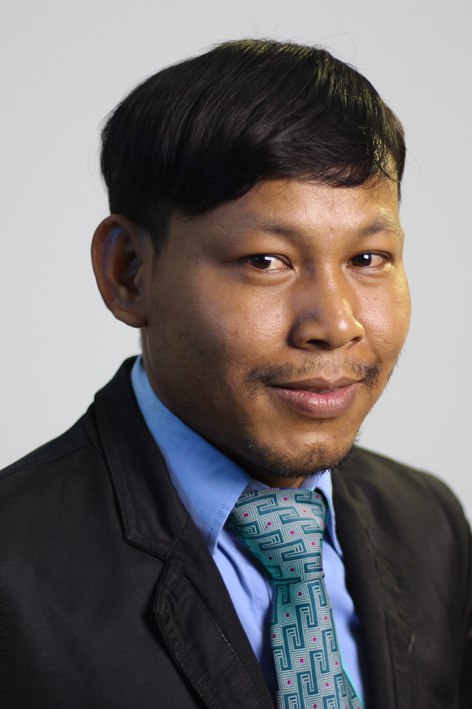 CHIM Lik
Teacher of Animation / Drawing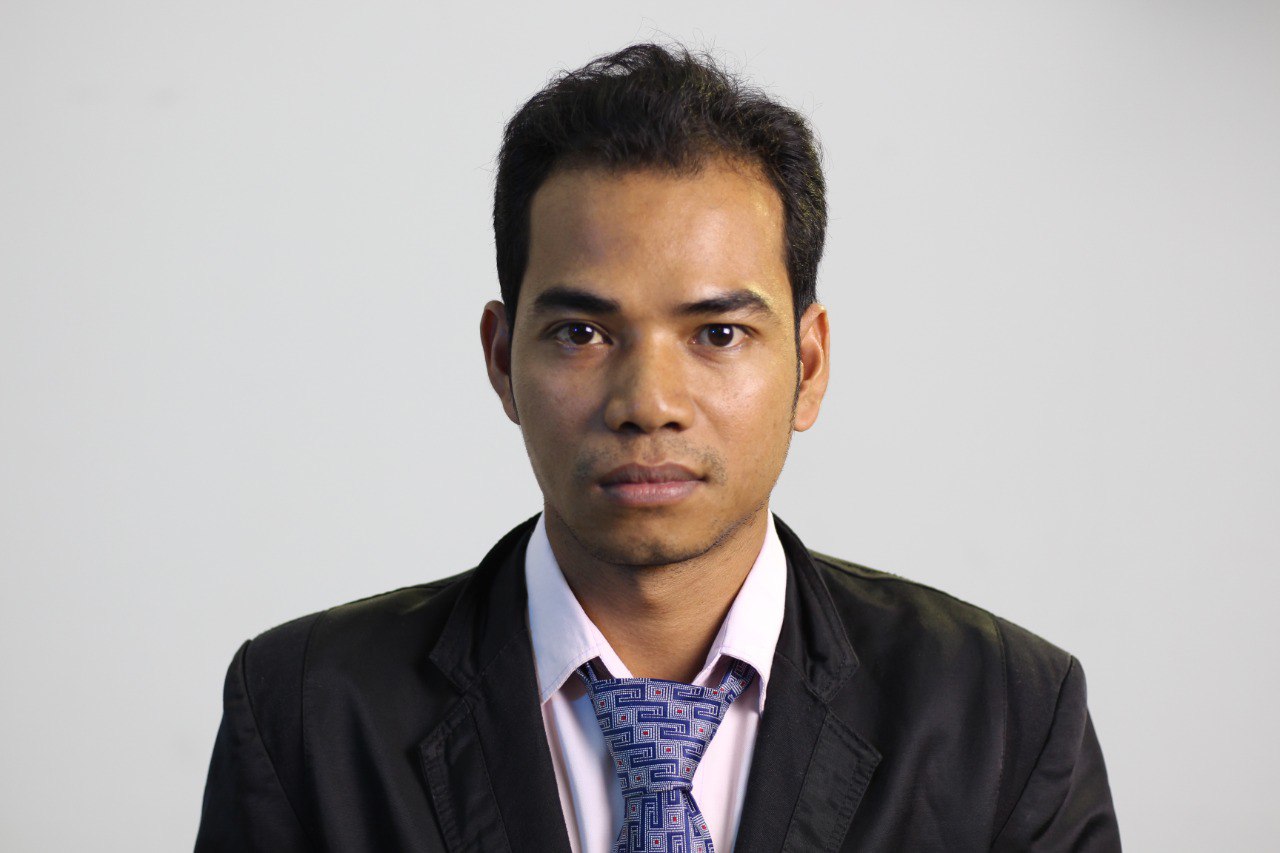 DIAM Soeurt
Teacher of Perspective / Animation / Graphics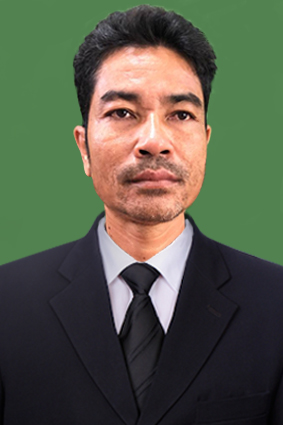 PERSPECTIVES – STUDENTS & GRADUATES
FREQUENTLY ASKED QUESTIONS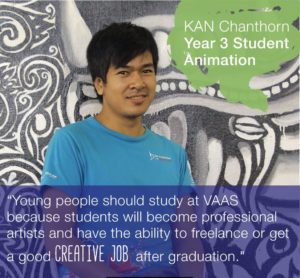 KAN Chanthorn, Animation Student
I am a student in Animation class and I believe in my ability to work locally in Cambodia. I have the opportunity of a career in the arts and the ability to freelance, choosing and prioritizing a job based on my interest. Young people should study at PPS because students will become professional artists based on the skill that they have selected. I am confident that I can get a good job after graduation.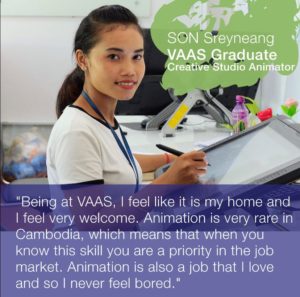 SON Sreyneang, Animation Graduate
I am very happy at VAAS, I feel like it is my home and I feel very welcome. Teachers are high quality and I can choose my skill, there are a lot of skills to choose from. A creative job in Animation is a very rare skill in Cambodia, which means that when you know this skill you are a priority in the job market. It is also a job that I love and I never feel bored. I want more students to join the program. It would be good to have more students in the next generation of artists.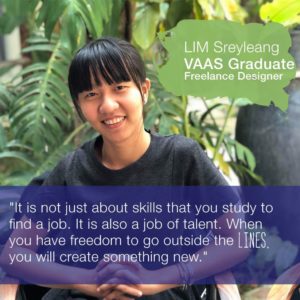 LIM Sreyleang, Graduate and Freelance Designer
I began my career in design while I was also in accounting school. Once I finished my degree at university, I came to VAAS full time. When I came here for the first time, I found my family, not just friends. We study together, we do everything together. When we have problems we always sort it out. It is not just the skill that you study and find a job. It is a job of talent. When you have freedom to go outside the lines, you will create something new.
FREQUENTLY ASKED QUESTIONS
Can I skip the Preparatory Class and go straight to Year One?
Yes, if you achieve a high score on the Admission Test you can skip Preparatory Class and go straight to Year One of Vocational Education and Training Program. If you would like to go straight to year One, you must show examples of your artwork during the oral examination (paintings, drawings, sketches, sculpture, photography etc.). In the oral examination, you will need to talk about your art and why you want to study at VAAS.
Do I need art experience to apply at VAAS?
No, you just need to be interested and excited to apply! If you have no experience, you can join the one-year Preparatory Class and then apply for the vocational training program.
Is the Vocational Training recognized by the Cambodian Ministry of Education?
PPSA Visual and Applied Arts School choose to implement a specialized curriculum that will prepare students with the most up-to-date skills and abilities. As we do not follow the Cambodian Ministry of Education curriculum, the Ministry does not formally recognize our certificate. However, Phare Ponleu Selpak operates under the guidance of the Ministry of Culture and Fine Arts and has an MOU signed with them. In addition, close collaboration with the Provincial Departments and authorities is maintained. The Provincial Governor always attends our Graduation Ceremonies and commends our students for their achievements. You can be confident that a VAAS certificate will be adequate for starting your career in the visual arts, graphic design and animation industries.
I do not live in Battambang now, but I want to study at VAAS. What can I do?
You are encouraged to apply to study at VAAS and attend the entry examination. You may be eligible for Financial Aid, either or both for tuition and living, which would allow you to gain support to live in Battambang for the duration of the program. Please contact us and we can provide more advice directly.
Can I earn income while studying?
Yes, students can work if they continue to pass all their tests and complete their coursework to
a satisfactory standard. The school is generally open from 8am – 5pm, so students have time
in the evenings and on weekends to work at their choice. In addition, a variety of work
opportunities are available on campus and through the school's social enterprise – Phare
Creative Studio. Many VAAS students even begin to earn income from their creative skills (i.e.
graphic design, commissioned painting, hostels and hotels, murals etc.)
Are families involved in study?
A community (liaison) book has been set up to link the school to families and tutors. Absences, achievements and events are tracked in this book. Families or tutors are asked for regular signatures to ensure the students get maximum support in their studies. At the beginning and end of the school year, we hold Parent Meetings to share information between the school, students, and parents. During these meetings, your families may raise any concerns you have.
Can students with disabilities study at VAAS?
VAAS believes that disabled learners have the right to study with non-disabled learners as much as possible. VAAS strives to cater to all learner's needs on a case by case basis. Please enquire with our Social Support department for more information.
Students currently living outside Battambang
Students currently living outside Battambang are encouraged to apply to VAAS. If accepted, we will support you to find local accommodation and settle into Battambang. Students eligible for financial aid may also receive financial support to pay for accommodation and living expenses.
Why should I move to Battambang for study?
Cambodia's creative city: Battambang is home to many art galleries, boutiques, and creative experts. The architecture in Battambang has been influenced by the French, so you will enjoy walking around our beautiful town.
Relaxed and quiet: Battambang has all the necessary facilities, restaurants and attractions without the busy traffic and city noise.
Safety: Battambang has a low crime rate, making it a great city for students to live.
Welcoming school: When you join VAAS, you become part of Phare Ponleu Selpak's creative family. At PPS you can make friends with like-minded creative people and get to know students and staff from different disciplines (performing arts, music, theatre etc.)
Unique Education: VAAS is a leading school for animation, graphic design, and animation. Our graduates are sought after by employees across Cambodia and internationally. If you want to work in the creative industries, VAAS will offer the most up-to-date training.