Tigers
FONKi (@fonkiworld
) – Cambodia-France-Canada
About the Mural
FONKi painted these tigers in collaboration with the Wildlife Alliance. Tigers have disappeared from Cambodian territory over the last fifteen years. Since then, the Cambodian government has declared its intention to reintroduce the feline predator within its borders. This initiative has the support of the Cambodian population, as preserving the tiger's habitat is of vital importance in curbing the harmful effects of human activity on the environment.
FONKi painted this mural choosing colors reminiscent of the festival sponsor, Tiger Beer, while also bringing out the finesse of the features and the wild aspect of tigers.
About the Artist
FONKi is a Cambodian-French-Canadian artist who was born in Paris in 1990 and later grew up in Montreal. 
In 2005, he discovered graffiti, began painting, and co-founded the FT crew. His triple national identity, along with the universal language of art, led him to discover the wider world. 
Today, he is the curator and owner of the FT Gallery in Phnom Penh. FONKi uses his art as an ambassador for Khmer culture, and as a tool to build bridges around the world and forge links within the global communities where he paints. 
***
In partnership with: Wildlife Alliance 
Sponsored by: Tiger Beer, Aver Asia, TOA Paints 
Hello Battambang
About the Mural
With the three colors of his mural, Tan wanted to represent the history of Cambodia, paying tribute to those who labored to restore peace in their own country and to those who continue to work hard to connect Cambodia with other countries and cultures. 
According to Tan, the red represents blood, orange represents the land of Cambodia, and yellow represents its people. The word "Battambang" is painted with many hard-straight lines, reflecting the bravery of Cambodians. These four elements express how Cambodians rebuilt their country and culture.

Tan made this mural to express his gratitude to the Cambodian people for what they share with Vietnam.  
About the Artist
Tan, also known as Lazygraphy, is a full-time graffiti and mural artist. For the 2023 edition of the S'Art Urban Art Festival, he made sure to provide a cool graffiti wall in the hip-hop style. 
Tan is also a good Bboy, currently living in Ho Chi Minh City. He joined RomBak battle in 2019 and has worked with some students from Phare Ponleu Selpak. 
***
Sponsored by: Phare Ponleu Selpak, TOA Paints 
Mekong River
About the Mural
In this mural, a stunning woman sits on a sampan (traditional boat), surrounded by colors, water, and birds.
With a straw hat protecting her skin, the lady on the Mekong River shares her rowing adventure with all the people of Battambang who have not been able to go there yet, including the artist. Hard13 hasn't yet accomplished his dream to see the Mekong River, but through this painting, he transports himself and viewers onto the river.

Hard13 usually uses more vibrant colors in his paintings but for this message, he used pastels and dark tones. He wanted to make the mural blend seamlessly with the building and the city's cultural heritage. The mural also blends realist elements (such as the boat, the woman, and the bird) with geometrical shapes from his digital painting style.
Ultimately, the artist hopes that his art will spread love and happiness all around the world.
About the Artist
Bernhard Suryaningrat, better known as Hard13, is a graffiti artist known for his unique style and innovative approach to graffiti. He first made a name for himself in graffiti with his bold works, which often incorporate bright colors and intricate patterns. 
Despite his success, he continues to push the boundaries of art and experiment with new techniques and materials. His works inspire other artists in Indonesia and continue to captivate audiences with their energy and creativity. 
***
Sponsored by: Tiger Beer, Aver Asia 
Battambang Driver
Jecks Bkk (
@jecks_bkk
) – Thailand
About the Mural
This mural depicts a resident of Battambang speeding on his bicycle. He's clearly an artist, as he's got cans of spray paint in his basket. There are multiple references to Cambodia and the S'Art Festival, such as the badges on the cyclist's jacket. The muralist combines rounded shapes and bright colors to give an impression of speed. In the background, you can see the remains of temples. In addition, the color blue represents water, a structuring element in the Cambodian way of life.
About the Artist
Jecks Bkk is a street artist in Thailand, working in illustration, digital painting, and graphic design.
***
Sponsored by: Tiger Beer 
ASERK
ASERK (
@aserktw
) – Taiwan
About the Mural
This artwork primarily features the artist's graffiti tag (i.e., signature) with the color scheme inspired by a beachside sunset.
ASERK comes from Taiwan, an island nation, and the mural shows his deep appreciation for the beauty of the sunsets there. Leaving tags is a common practice for every graffiti writer. ASERK hopes everyone can remember him as a Taiwanese artist and also remember Taiwan. ASERK used this particular letter style hoping to leave a lasting impression on everyone.
About the Artist
ASERK is from Tainan, Taiwan (Director/Founder of KIDZ JAM). Influenced by 80s graffiti, he enjoys colorful works and incorporating personal experiences. He believes that art should be accessible to all. 
In addition, ASERK is dedicated to offering various forms of graffiti courses to democratize graffiti and combat prejudices about the art form.  
***
Sponsored by: National Culture and Arts Foundation (NCAF) 
Tuk-Tuk
About the Mural
Jefr particularly enjoys travelling, exploring, and painting pieces abroad with his old and new friends. For this particular mural in Battambang, his inspiration came from the local tuk-tuk. The bright colors are influenced by the loud and busy energy of the city. The whole distorted composition reflects the movement and speed of a tuk-tuk.
About the Artist
A graffiti writer and visual artist based in Kuala Lumpur, Jefr has been honing his skills since early 2012. Like most graffiti writers, he is self-taught. Jefr started to dive deeper into graffiti by marking his tags and throwies all over the city using any medium available, from paint markers to spray paint and home-made ink. Over time, he found his own style, incorporating both letters and characters into his work.
Graffiti is about bringing color and life to bare walls. Despite the difficulties, he approaches his work with honesty, guaranteeing a balanced result for personal fulfillment and public appreciation. 
***
Sponsored by: Tiger Beer 
The Monkey
About the Mural
LeHo painted a monkey because he found out people in Cambodia love monkeys and pray to the god Hanuman. In Taiwan, there are also lots of native monkeys in the wild. This work represents a cultural combination and exchange: the artist wanted to bring a monkey from Taiwan to greet everyone in Battambang. The mural's colors are inspired by sunsets and clouds, creating a dreamy freedom and fantasy. LeHo used to see the sunset on the coast every day of his childhood, and this imagery gives him a lot of strength and imagination. The position and posture of the monkey is a curious mood and is intended to look like the monkey is discovering a whole new world. Cambodia is the first country where LeHo has painted in Southeast Asia.
About the Artist
LeHo, a modern artist from Tainan, was born in 1995. He currently lives in Taiwan. The name "LeHo" derives from the Taiwanese word for "Hello," symbolizing the artist's intention to extend a warm welcome to all individuals worldwide through his works of art. 
In LeHo's wall works, the focal point revolves around animals that serve as messengers of knowledge, depicting human feelings, stories, and beliefs. These creatures allow viewers to immerse themselves in the diverse expressions and atmospheres conveyed by their various manifestations. 
***
Sponsored by: National Culture and Arts Foundation (NCAF), Sabrina Group / Choice Accelerator, TOA Paints
Girls in Blue
About the Mural
Nongpop chose to depict two young girls in her Battambang murals. Her characters are often female, young, and pensive. Both portraits depict studious young girls inspired by pop culture. She has added multiple references to her mural sponsors, using the colors of their logos. The geometric shapes of the mural seem to emerge from the wall in Nongpop's style. Her murals are always girly, featuring girls who look bright and determined. 
About the Artist
Nongpop is a mural artist from Bangkok, Thailand. Actively painting on walls since 2016, she used canvas to express herself before changing to spray paint and the streets. 
She has always kept an eye on graffiti and thought it would be fun to practice. She loves spray paint because it's a challenge to control. She's very proud when people take a photo of her work. It transforms the space, making it more remarkable and beautiful. 
Her characters are often sweet girls in pink, but anyone can imagine and experience her work.  
***
Sponsored by: TOA Paints, Tiger Beer
House with a Hole in the Roof
Koeurm Kolab (

@roserose596

) – Cambodia
About the Mural
This mural expresses the artist's emotions on the melting of the ice sheets at the North Pole and depicts a significant impact on the polar bear family. Kolab wants people to consider that the climate is changing and to cooperate in order to benefit both humans and animals.
Kolab believes that murals like this one can reach people who may not be able to see exhibits in galleries.
She wants observers to see this street as the journey where true human expression can begin. She doesn't want the city to be full of views about just alcohol or cigarettes. Instead she wants people to see that Battambang is a city that is rich in culture and arts.
About the Artist
Koeurm Kolab graduated from the Visual and Applied Arts School at Phare Ponleu Selpak with an emphasis in graphic design in 2007 and in animation design in 2010. She also received a diploma in visual arts from the École Pivaut of Applied Arts and Design in France in 2014. She currently teaches visual arts and animation at Phare Ponleu Selpak. 
Her works explore humanity as well as environmental and social change. Kolab won the gold prize at White Canvas Cambodia 2020 organized by Social Compas Cambodia. 
Recent exhibitions where her work has been shown have taken place at Penh Art, AIR Gallery, Factory Phnom Penh, Cambodia; Anonymous Heirloom, Sa Sa Art Project, international online art exhibition; Sangskar Bhatr, and Lalit Kala Akademy, New Delhi, India; White Canvas Cambodia, IRoHa, Un Petit Marceau, Alliance Française, Siem Reap; Ansan International Environmental, Danwon Art Museum, and Cambodians of the Rice Fields, Million, Paris, France. 
***
Sponsored by: TOA Paints, KampumEra 
Every Destination Starts f
rom
a Single Step
Poy Chhunly (
@poychhunly
) – Cambodia
About the Mural
In this mural, an elephant, a frog, and a bird are all stepping forward. There are 10,000 steps ahead of them, but after the first step, there will only be 9,999 steps left to complete. They will get closer to their target if they take the second step.
Chhunly believes that urban art has the power to transform the old into the new. When artists cover old buildings with beautiful murals, these less valuable and dirty walls are transformed into ones that draw visitors from all around the world. He believes that protecting and preserving are important, but most important is for us to act.
About the Artist
Battambang-born artist Poy Chhunly, has devoted his talents to teaching, drawing, and animation at the Visual and Applied Arts School in Phare Ponleu Selpak, while actively participating in various creative projects in film and video. Returning to his homeland after completing his studies at a French film school in 2014, he eagerly awaits the opportunity to pursue his lifelong dream of becoming a filmmaker. 
***
Sponsored by: TOA Paints, KampumEra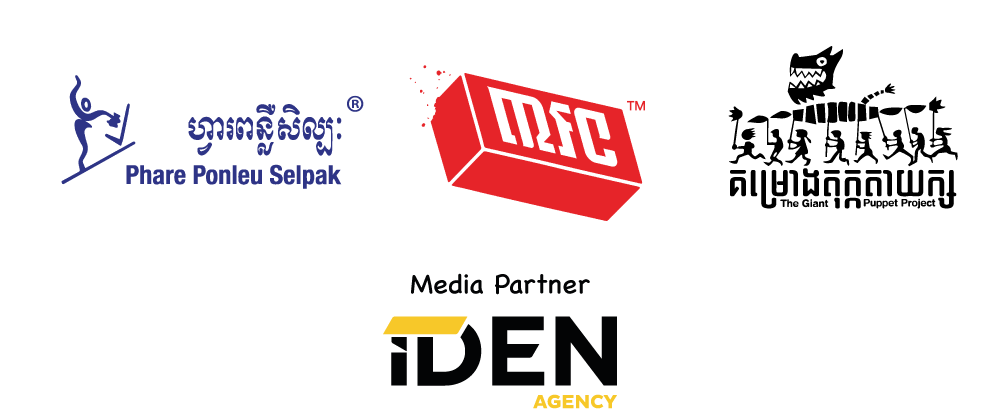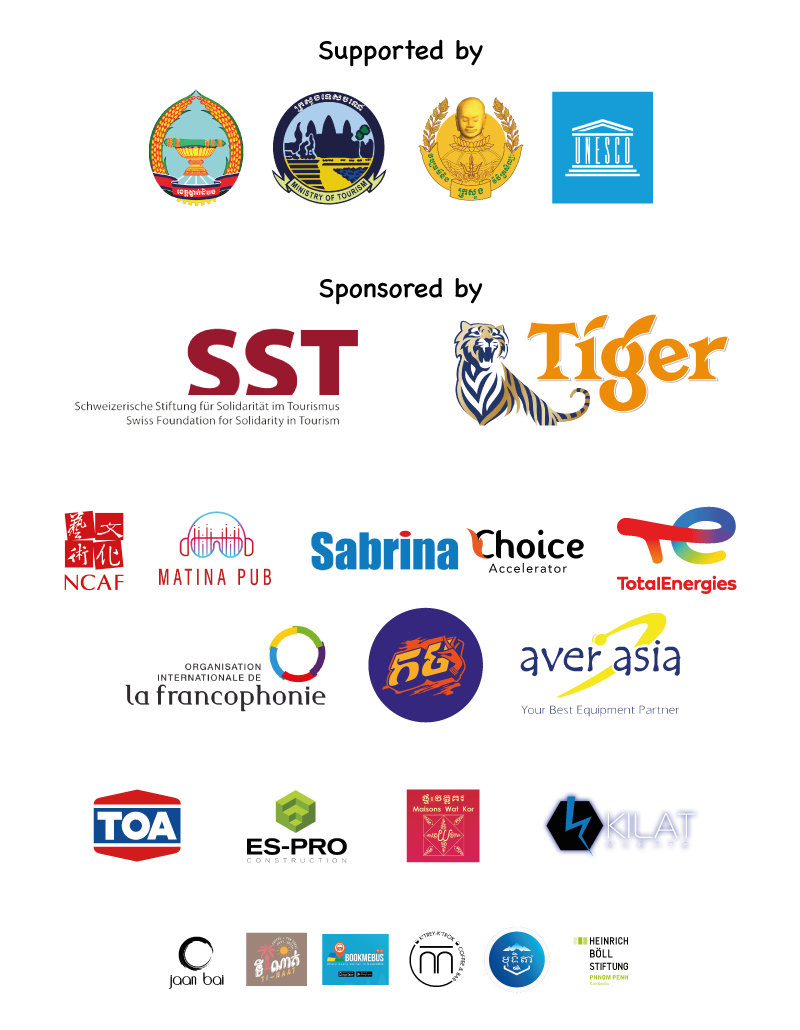 ***
Explore blog posts related to the S'Art Urban Art Festival
Videos from the S'Art Urban Art Festival