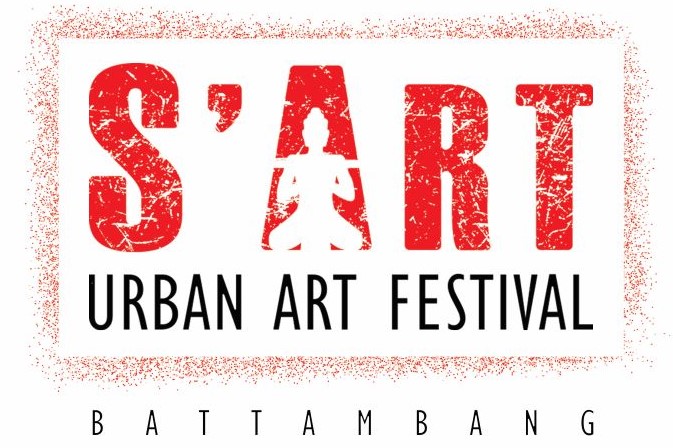 The S'Art Urban Arts Festival is back!
Join us on the streets of Battambang from 12 to 17 June 2023 for this biennial festival that introduces the public to urban art forms like hip-hop music and dance, as well as graffiti and mural painting. After cancelling the 2021 edition due to the pandemic, the S'Art Urban Arts Festival returns this year with a week of activities culminating in a grand finale parade and concert.
This year, a key theme of the festival will be promoting a deeper understanding of regional shared cultural heritage across Cambodia and the rest of Southeast Asia. The aim of the festival will be to develop a mutual recognition and respect for each other's cultures – no matter where each of us originates.
What's Happening at the Festival
Art & Graffiti Workshops + Artist Talks
Several of the visiting artists are holding workshops to share their skills and knowledge with young students, community members, and other artists. Talks and workshops on regional shared cultural heritage will be a key part of this year's festival. Graffiti art workshops will also take place, and all workshops are free of charge.
Hip-Hop / Break Dance Workshops
Hip-hop workshops will be conducted for current dancers, dance students, and the general public, with some workshops hosted in public parks, so tourists and locals alike can dive in and learn some dance moves. Workshop students will also get a chance to showcase what they have learned during the festival.
Hip-Hop Battle
A battle between various hip-hop styles will be held for dancers from Battambang and Phnom Penh as well as hip-hop artists from neighboring Vietnam and Thailand.
Mural Painting
National and international artists will spend the week painting walls in the historic city of Battambang – often with live music and dance to accompany their work. Murals will also include co-creations by artists from different countries to build solidarity and understanding of their shared cultural heritage.
Graffiti Battle
After the graffiti workshops, artists will be invited to a graffiti challenge, judged by internationally renowned Cambodian-French graffiti and mural artists.
Giant Puppet Workshops
Students from local schools will be invited to join in puppet-making workshops. Groups of students will work together with professional artists to build giant puppets that will be paraded through Battambang on the last day of the festival.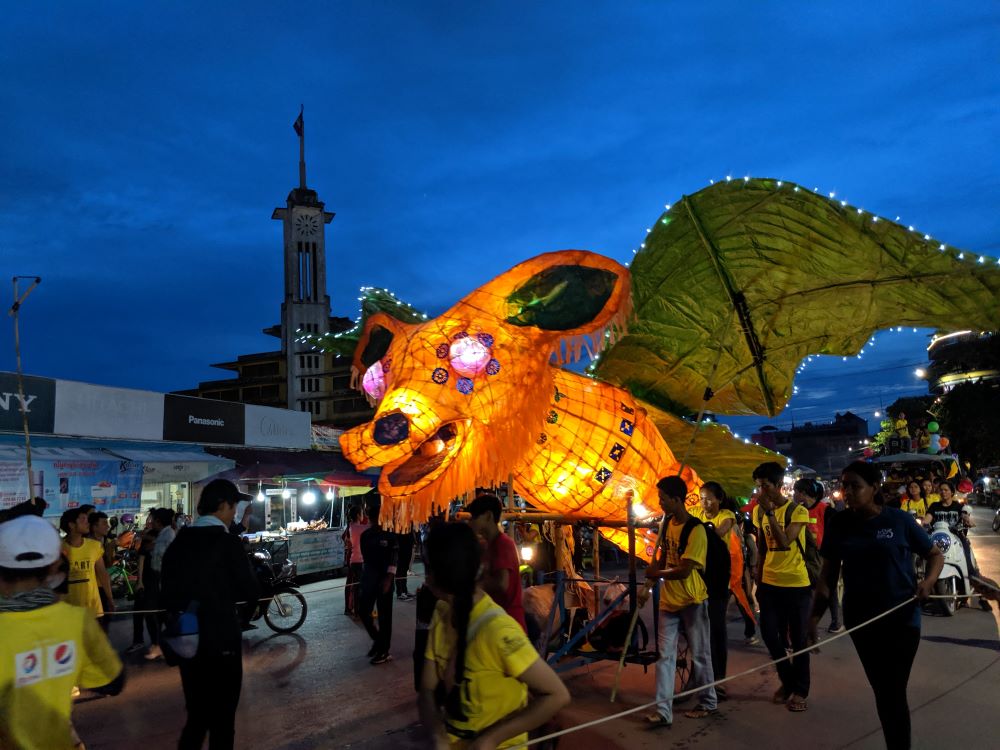 Night "Art:chitecture" Video Mapping
A cadre of digital artists will video project their works onto key heritage buildings in Battambang, bringing visitor attention to the beautiful heritage buildings of the city through light and sound.
The Art Parade & Festival Finale Concert
The festival's week-long activities will culminate on 17 June in an art parade through the old city of Battambang. The giant puppets created during the week will lead the parade, decked out with lights and accompanied by music. Hip-hop and circus artists will also entertain the audience. Even the Battambang Provincial Governor and other government officials will be there.
The parade will start at Wat Pippet Pagoda and end at the historic Battambang Provincial Hall. After watching the parade, join us for a finale concert to wrap up the S'Art Urban Arts Festival with live music and dance performances.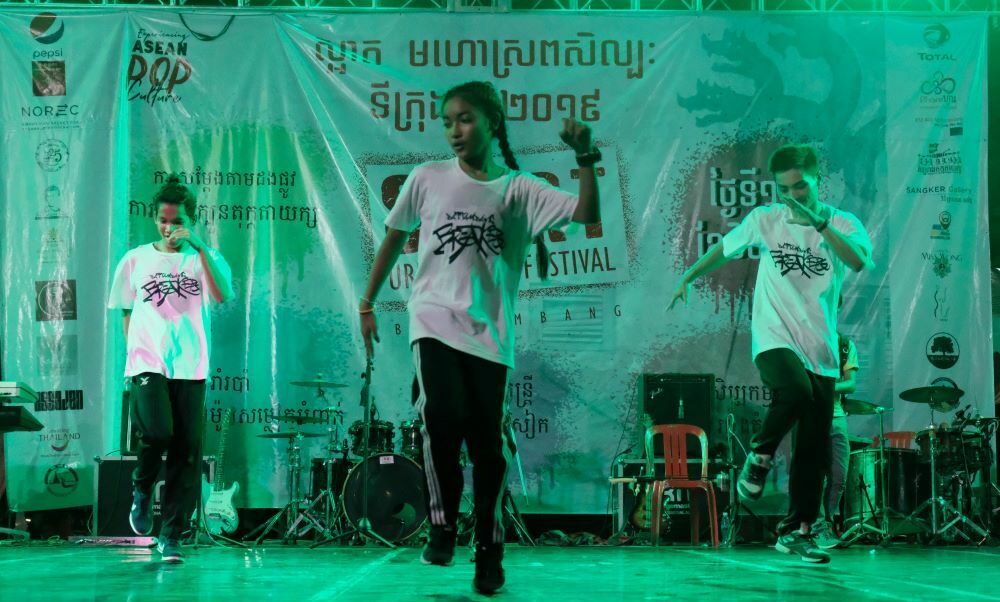 Finalists from the hip-hop battle will showcase their moves, and local and international musicians will entertain the audience along with contemporary dance and circus performances.
A Big Thank You to Our Partners & Sponsors
This year, the festival is fortunate to have a number of art, media, and government partners whom we'd like to thank.
Art Partners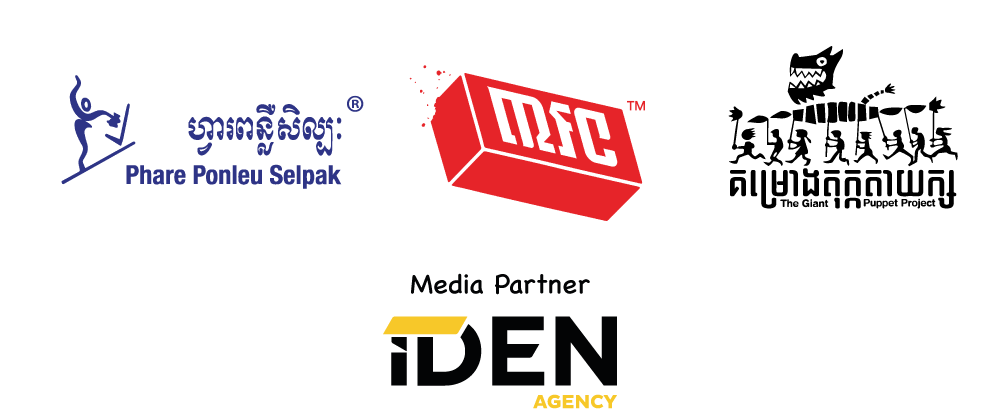 Giant Puppet Project: Founded in 2007 by Jig Cochrane, Stuart Cochlin, and Sasha Constable, the Giant Puppet Project brings together young Cambodian artists with hundreds of children to create large, glowing, moving puppets (some as big as 100 feet!) which are then paraded through town on the last night of the festival.
White Canvas: White Canvas is a platform for launching talented yet undiscovered artists from rural Southeast Asia into the wider world and helping them create sustainable livelihoods.
ROM Bak Association: Founded to provide a platform for the growing number of hip-hop dancers in Cambodia, Rom Bak disseminates Cambodian and Southeast Asian art through modern, contemporary and hip-hop dance.
Murals for Cambodia (FT Gallery & Studio): FT Gallery & Studio launched the Murals for Cambodia project and festival with the aim to bring art to the rural communities around the country. This year, FT Gallery and Studio will join the festival as a main artistic partner to bring in mural artists to paint in Battambang as part of their "Mural for Cambodia" project.
Other local artists & artistic groups: A number of Battambang-based artists and artistic groups will participate in the festival. They include a variety of emerging visual artists, musicians, and dancers who will showcase their respective artistic creations during the S'Art festival.
Phare Ponleu Selpak: Phare Ponleu Selpak – meaning The Brightness of the Arts – is a Cambodian non-profit art school located in Battambang, empowering children, youth and communities through artistic, educational, and social support programs since 1994. Over 1000 students are empowered every year through our schools and programs with access to a sustainable artistic career while preserving and promoting Cambodian arts and culture.
Media Partner
iDEN: This year S'Art Urban Arts Festival is pleased to have on board iDEN Agency as media partner. With their expertise, the festival hopes to reach a wider audience and play a role in positive messaging around share cultural heritage.
Government Partners

Battambang Municipality
Battambang Provincial Department of Culture & Fine Arts
Festival Sponsors
And of course, a big thank you to all of the sponsors of S'Art Urban Arts Festival!

After a pandemic hiatus, the S'Art Urban Arts Festival is back and better than ever in 2023. Follow the festival Facebook page for regular updates and more event details.
Whether you're admiring a new mural, attending an artist talk, marching in the parade, breaking it down on the dance floor, or rocking out to the finale concert, we hope to see you there!
***