If you're ever traveling to Battambang in October, you might hear people talking about the water festival – or you might find yourself caught in the middle of it unknowingly if you're down by the Sangker River and surrounded by racing boats and cheering crowds. 
Battambang Water Festival is a great event to enjoy and celebrate, but what makes it different from the main Cambodian Water Festival in late November?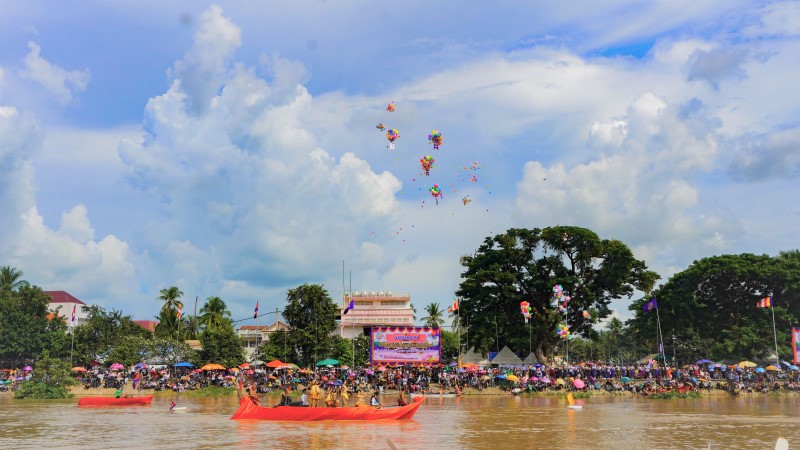 Photo credit: Olivia AUDO
What Is Cambodian Water Festival? 
Cambodian Water Festival – or Bon Om Touk (Boat Racing Festival) – takes place in October or  November and is one of the country's most spectacular festivals of the year. The festival typically draws in a few million people annually.
The holiday has been observed in Cambodia since the 13th century and marks the end of the monsoon as well as the shift in flow of the Tonlé Sap River. This yearly celebration occurs during the full moon of the Buddhist month of Assoch, which is believed to bring good fortune and bountiful crops. 
On the first day of the event, boat races are held in the morning followed by illuminated boats at dusk. The second day, known as Og Ambok Day, or Eating Ambok Day, is dedicated to moon worship. It takes place at twelve minutes past midnight and involves a lantern lighting ceremony with prayers to Preah Purthisat – a Buddha who invented the moon rabbit legend. Ambok is known throughout Cambodia as rice flakes or flattened rice. A ribbon is cut on the last day to mark the conclusion of the Water and Moon Festival as well as the boat race.
For the third year in a row since 2019, the Cambodian Water Festival was suspended due to the COVID-19 pandemic and the year prior due to Cambodia hosting the ASEAN Summit. However, the 2023 Water Festival has finally returned to the capital and has been scheduled from November 26th-28th, 2023, in front of the Royal Palace in Phnom Penh along the scenic Tonlé Sap River.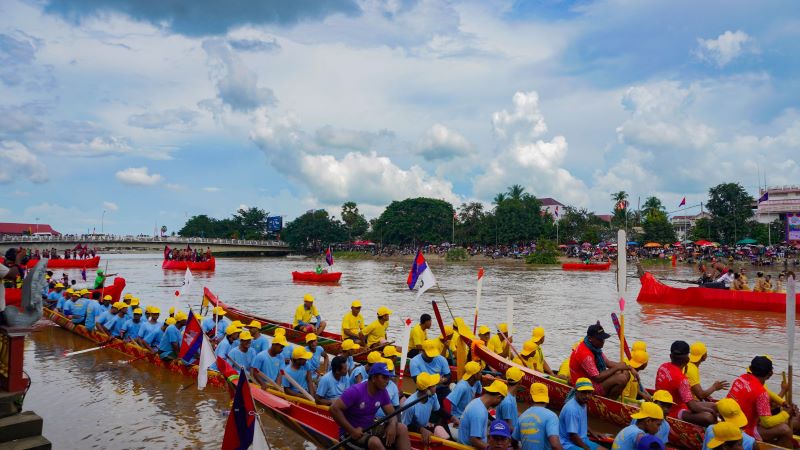 Photo credit: Olivia AUDO
What Is Battambang Water Festival?
Not everyone can attend the national Water Festival in Phnom Penh, so many provinces organize their own event prior to the main Bon Om Touk holiday in the capital. After most provinces hold its own boat racing events, the provincial champions compete at the national boat races in Phnom Penh, where recognized teams are rewarded by the King of Cambodia himself.
Every year, the Battambang Water Festival is typically celebrated one month early. This year, it was held on 28th-29th October 2023 along the Sangker River.
In addition to the boat racing, there were live music concerts, illuminated boats, floating lanterns, carnival rides, product and food fairs, and traditional and cultural art screens displayed on both land and water.​ 
The boat races on Saturday and Sunday featured 45 teams for a total of 1596 competitors. The winners in different categories included:
International Standard Boat, 22 paddlers:

Youvochun Battambang Sorchey Baramey Kongkea

Traditional Short Boat (23 paddlers) was divided into three subcategories

Category A:  Sathea Ronaka Samai Baramey Komchaymea

Category B: Notimankol Kampuch Rottanak Meanchey

Category C: Red Cross Sorchey Baramey Techo 

Traditional Long Boat, 63 paddlers: Nintrea Reangsey Sorpichey Chetbot 
How Phare Ponleu Selpak Participated in the Battambang Water Festival
Prior to 2022, the Battambang Water Festival barely featured any Khmer arts or culture. So when the new Governor of Battambang Province – Sok Lou – took office in 2022, he asked Phare Poleu Selpak to produce something creative and different that incorporated Khmer culture, arts, and performances back into the Water Festival.
Video credit: Olivia AUDO
KHUON Chanreaksmey, Director of Projects at Phare Ponleu Selpak and an event organizer at the Battambang Water Festival, expressed his gratitude that Phare could be involved.
"I'd like to thank everyone who was involved in making this year's Battambang Water Festival a success," said Chanreaksmey. "By incorporating Khmer arts and culture into national and provincial celebrations like this one, Phare Ponleu Selpak hopes to contribute to the growth and renewal of the arts in Battambang, attracting tourists and boosting the local economy. In addition to participating in significant events with provincial officials, Phare organizes its own big events in Battambang to promote the region's arts and culture. We hope to return again to perform at the Battambang Water Festival in 2024 and beyond." 
About 100 people from Phare Ponleu Selpak – students, teachers, and staff – participated in the two-day Battambang Water Festival. 
While watching the boat race, guests could rent traditional Khmer costumes from the Phare Ponleu Selpak booth and wear them throughout the festival.

On the opening day, five students from Phare Performing Arts School performed the classical Robam  Buong Suong (Prayer Dance) – a prayer dance that conveys the need for peace and prosperity to the gods or sacred statues – in front of Battambang's most famous landmark: Ta Dumbong Kronhong, also known as the Black Statue.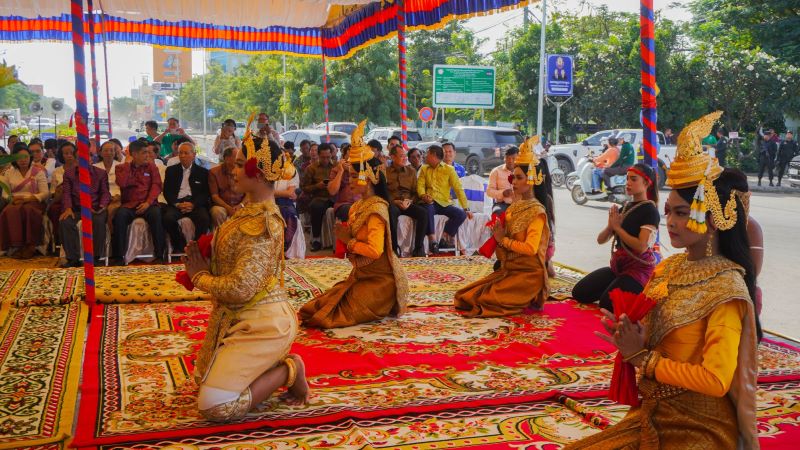 Photo credit: Olivia AUDO
Later that day, a boat-shaped parade wound through the heart of Battambang city, featuring 100 students and staff from Phare Ponleu Selpak as well as other participants from the Union of Youth Federations of Cambodia. Shortly after the land parade finished, the water procession dominated on the Sangker River. About fifty artists and performers – mostly from Phare – amused the governor and other public officials with circus performances and traditional dances while aboard river boats.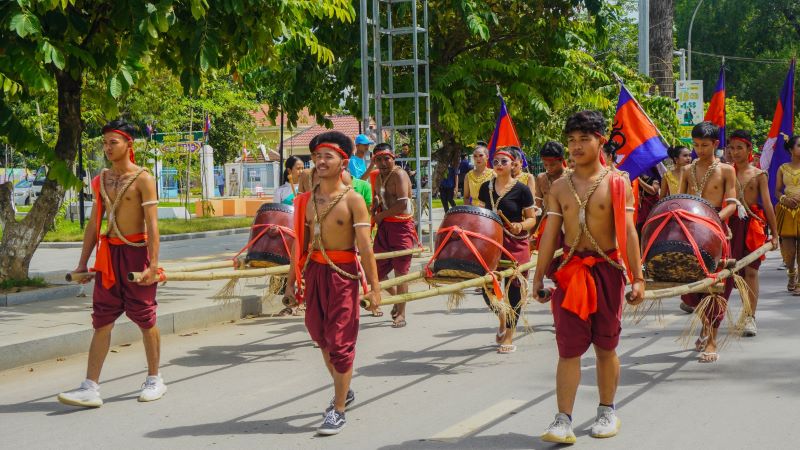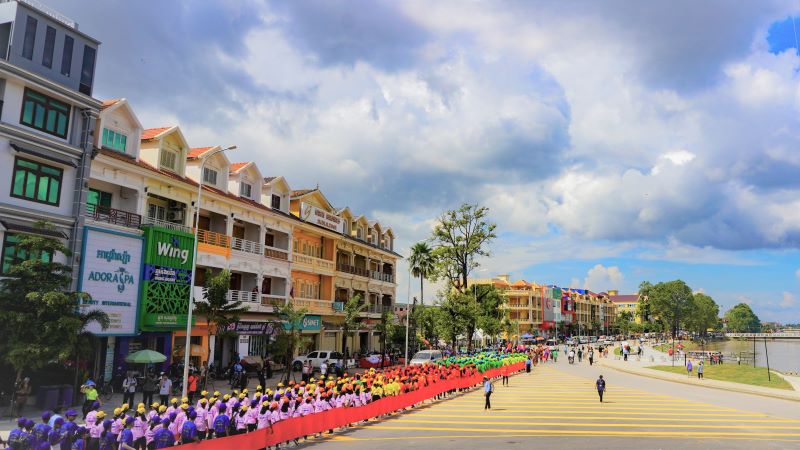 Photo credit: Olivia AUDO
That night, after a brief firework show, Phare students put on a cabaret circus performance next to the Independence Monument. The circus show involved tumbling, acrobatics, fire juggling, and a flaming jump rope.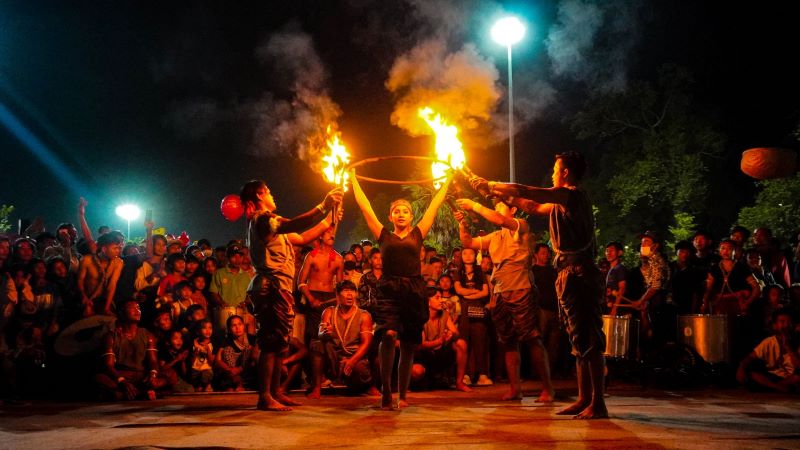 Photo credit: Olivia AUDO
NEM Theara, a student at Phare Performing Arts School, was proud that she got to perform at the Battambang Water Festival. 
"I'm excited that I had the opportunity to be a part of the festival and showcase my fire dance performance," said Theara. "I had been performing since the morning, so I was quite exhausted, but the audience's smiles and applause helped me regain my energy and made me feel really proud of myself." 
Conclusion
The Battambang Water Festival is one of the biggest events of the year in both the city and province of Battambang. (If you really can't catch Bon Om Touk in Battambang, then don't miss the royal boat racing in Phnom Penh!) 
The festival is a great chance to witness Khmer arts and culture while also supporting students from Phare Ponleu Selpak as they perform music, dance, and circus. If you're ever in Cambodia during October or November, be sure not to miss it! 
Would you want to see more of our students' live performances of arts and culture? 
Book your tickets online today!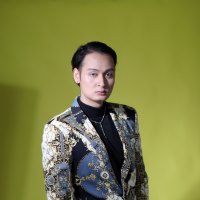 Chan Rattanakoudom works as the Communications Assistant at Phare Ponleu Selpak and is an English Second Language Teacher. He dreams to be an English blog writer and wants to develop his communication skills. He loves to create and watch traveling videos in his free time besides reading.