As societies evolve, difficulties that young people also change: scholastic and peer pressure, family breakdowns, toxic living environments, social and cultural changes, the risks connected to the misuse of social networks, difficulties in managing emotions and expectations, and, last but not least, the impact of the aftermath in psychological and emotional implications due to COVID-19 pandemic.
The Social Support Department of Phare Ponleu Selpak addresses the fundamental and most sensitive needs of the students, and, in the immediate period after the pandemic, started providing a revamped Life Skills & Resilience building program implemented by Matteo F. and Lay L.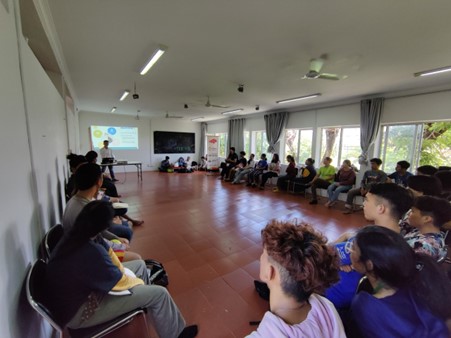 Resilience is the human capacity to face, overcome, and be strengthened by unforeseen events of life. Despite the different cultural frames, it is a universal capacity that allows a person to prevent, minimize or overcome the damaging effects of adversity. Building strong resilience skills within the first period of life, permits children, adolescents, and young adults to overpass traumas and deal with the most stressful times that new generations are facing.
 The main goal is to create a safe space where young people can learn how to accept and normalize errors and bounce back from unexpected setbacks, in the meantime recalibrate the nature of the relationship between teachers and students, making adults facilitators and role models.
 The curriculum provides the student the ability to cope with adversities, set up their personal goals while enhancing their leadership skills, handle group dynamics, teamwork, and social pressure, and strengthen their self-esteem.
During the months of April and May, 10 training sessions have been provided to students between 15 and 26 year old and to the kindergarten teachers through different entertaining activities considering the difference in the age range. More trainings are planned for the rest of the year, while the life skills curriculum will become an integral part of the arts programming as part of our move towards more holistic education.