On your marks, get set…it's time to celebrate the 30th anniversary of Phare Ponleu Selpak!
That's right, 2024 is the year that Phare Ponleu Selpak turns 30, and we're celebrating all year long with a series of special events, fundraisers, art festivals, and more. (Stay tuned for more details on our big birthday bash this June!)
To kick the year off, we're excited to announce the Sangker River Run: 30 km for 30 Years of Phare Ponleu Selpak happening on Saturday 20th January 2024.
This fundraising event is open to solo runners, relay runners (10k run each), and cyclists, so tighten up your laces, mark your calendars, and let's dive into the details!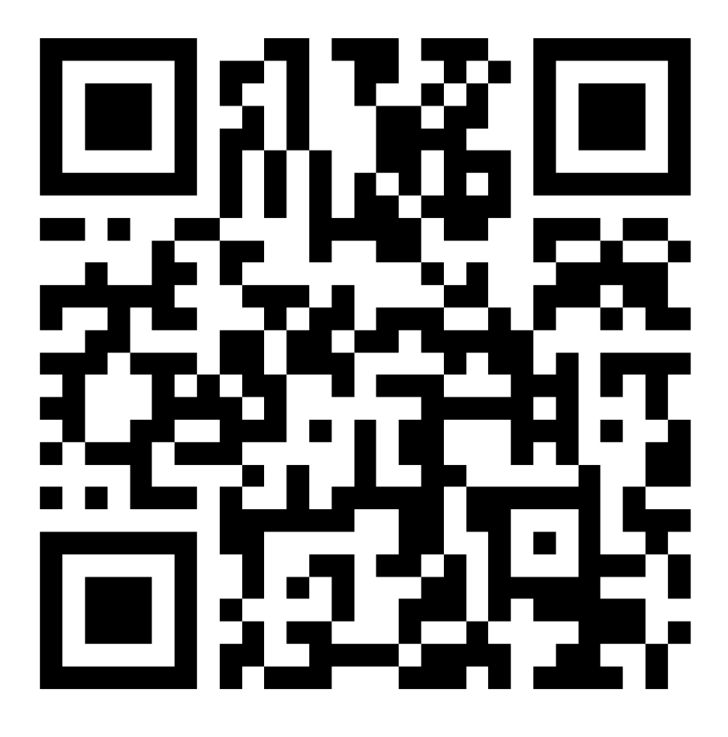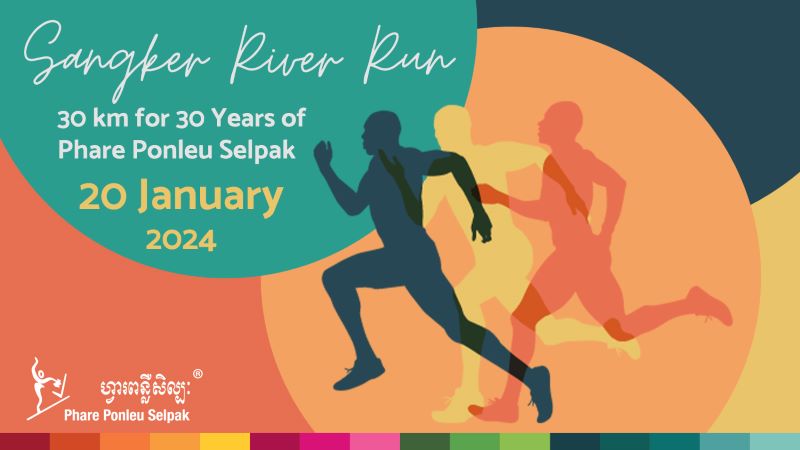 Who Can Participate?
Runners & Cyclists
The Sangker River Run is for dedicated runners and cyclists who are capable of completing at least a half marathon (21 kilometers or 13.1 miles). If you like to run or cycle long distance and want to push yourself a bit further – or if you're an experienced ultramarathoner looking for a light jog – this race is perfect for you. 
Not quite ready to run 30 kilometers? Put together a relay team of three runners who will each run 10 km of the total route. This is a great way to help fundraise for Phare Ponleu Selpak while working as a team and forming new friendships.
For cyclists, the route is suitable for both road bikes and mountain bikes, following a similar trail as the runners (but a bit smoother in a few places). Bicycle transport will be provided to the starting point, but we ask that you of course provide your own bike.
Volunteers & Sponsors
What if running or cycling isn't your thing but you still want to support Phare Ponleu Selpak? We need plenty of help from volunteers and community members to make the Sangker River Run a reality. 
From hydration stalls to directing participants, we'll need plenty of help to make it all happen. Volunteering is perfect for family members and friends who want to help out while they cheer on the runners and cyclists!
If you're interested in volunteering, please fill out this volunteer sign-up form. Volunteer recruitment and organizing will begin on 1 November 2023.

The Sangker River Run is also a great opportunity for sponsors, partners, and local businesses to advertise to Battambang locals and tourists alike. 
If you're interested in sponsoring or advertising, please contact KHUON Chanreaksmey at [email protected] or on Telegram +855 092 633 357
The Route
The route of the Sangker River Run winds from the small town of Banan along the river and ends on the campus of Phare Ponleu Selpak. 
The race begins at the foot of Phnom Banan, a small mountain on the outskirts of Battambang that is home to a Buddhist and Hindu temple dating back to the 11th century. From there, the route follows a scenic track past rice fields, over suspension bridges, and through the city of Battambang. 
You'll end the race at the Phare Ponleu Selpak campus, where you will receive refreshments and snacks from local vendors.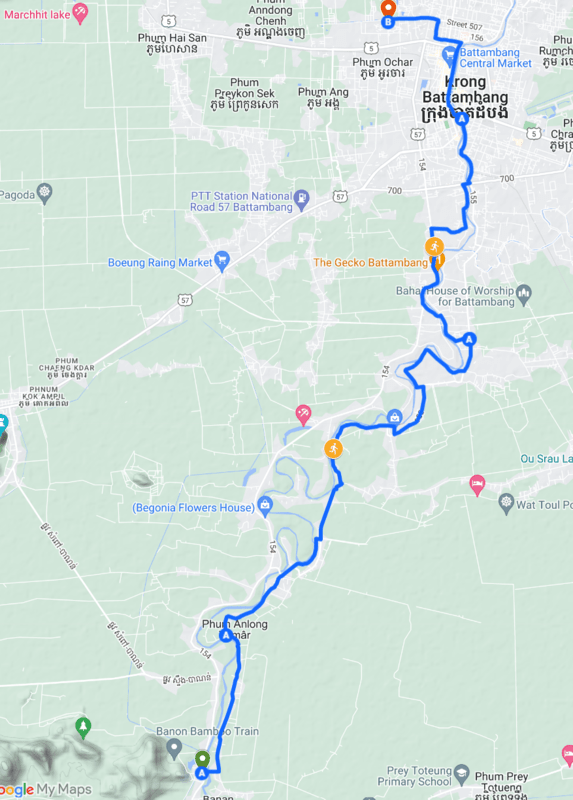 (The bicycle route will vary slightly from the running route in order to ensure it's safe and smooth for cyclists on road bikes.)
How Do I Register?
Ready to run or cycle? Register here to get your starter pack, and we'll send you all the information you need to help fundraise via our online giving platform partners. 
For our 30th anniversary, Phare aims to raise $300,000 in the course of the year, and the Sangker River Run is an important step on this fundraising journey. Each runner or cyclist is required to fundraise or donate at least $30 in order to participate (or $90 for a 3-member relay team), but of course you're encouraged to raise much more! We'll send you more information about how to fundraise after you sign up.

All proceeds from the Sangker River Run will be invested into arts education and social support programs at Phare Ponleu Selpak so that your contribution continues to change lives through the arts. (Read more about how Phare spends your financial contributions in our fully audited annual financial reports.)
What You Can Expect on Race Day
Once you're ready to hit the road, here's what you can expect on the day of the Sangker River Run:
Transportation (including bicycle transport) to the starting point in Banan

A snack before the race 

An official event T-shirt 

A runner's bib and race number  

A finishing medal 

Refreshments at the finish line 

A fundraising thank you certificate 
Conclusion
We look forward to having you join us at the Sangker River Run: 30 km for 30 Years of Phare Ponleu Selpak! The race is a great way to get active, have some fun, and also fundraise for changing lives through the arts in Battambang. See you on the starting line! 
It's time to tighten up your laces or hop on your bike, and register for the Sangker River Run: Scan the QR code or click the button below to get started.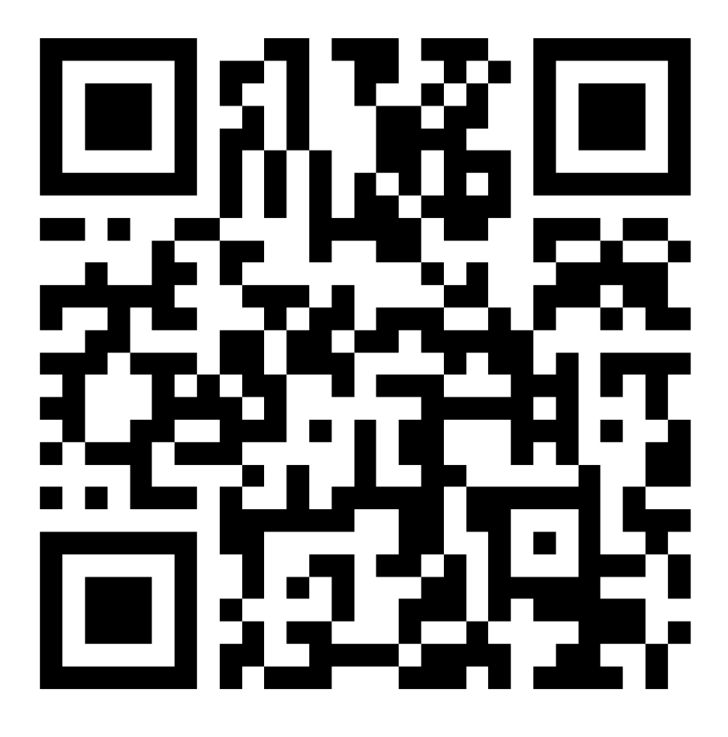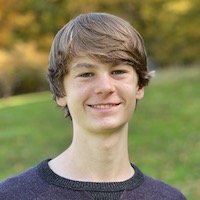 Eliot Witherspoon works as a communications intern at Phare Ponleu Selpak. He is currently spending nine months on a gap year in Cambodia before starting at Princeton University next year. He is looking to learn about the Khmer language and culture while gaining skills in writing, graphic design, and videography. In his free time, he enjoys spending time with family and friends, listening to music, and being outdoors.