How we are incorporating the arts into everything we do. And why it matters!
Here at Phare Ponleu Selpak, we believe strongly in the power of the arts to change lives. And science is on our side! Many studies in Asia and around the world show that the arts have multiple benefits for education. These include better test scores, higher civic engagement, increased capacity in math and language, better emotional and behavioral regulation and increased likelihood of higher education and professional careers.*
In 2021, Phare Kindergarten and The Child Development team began working with Arts Education Specialist Maria Tate on integrating the arts into every subject. The idea is twofold: One, students ages 3-5 will receive weekly instruction in visual art, theatre, dance, music, and circus. Two: Teachers will incorporate the arts into every subject, teaching core material such as math and Khmer THROUGH arts-based activities. These activities may include singing a song about numbers; using traditional Khmer dance to learn about the life cycle of a flower; learning fine motor skills for writing through drawing; learning gross motor skills through circus and creative movement; using theatre to learn how to regulate one's emotions. 
This approach has proven effective thus far. Teachers report higher student engagement, increased memory of material, and perhaps most importantly, increased student/teacher engagement and joy. With the continued support of our Child Sponsorship donors, Phare will continue to increase access to the arts not just in our KT classes but in our public school as well, being a beacon of light for all.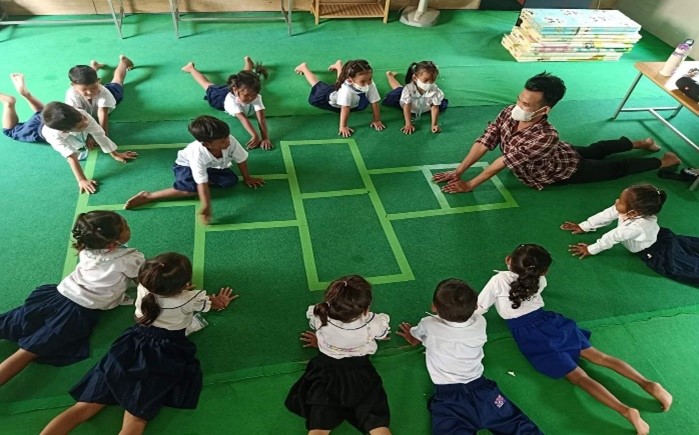 Dance teacher doing stretching exercises with the kindergarten children