Since 2021, every year in early August the Phare Ponleu Selpak community grieves the loss of one of our co-founders, Lokru SREY Bandaul.
On August 4, 2023, we celebrated the memory of Bandaul who passed away two years ago from COVID-19, with the inauguration of a new reflection garden on campus. All those who wished to pay tribute to him were invited: family members, friends, and of course, the students and staff of Phare Ponleu Selpak.
The Memorial Service
Each guest brought a plant or flower to add to the reflection garden. The garden had originally been imagined by Bandaul, before his death, as a place for mediation and connection with nature. He began his design by planting trees several years ago, and today they stand tall and shade the site on the Battambang campus. In his honor, the Phare team finished building what he hoped would be a peaceful haven for all.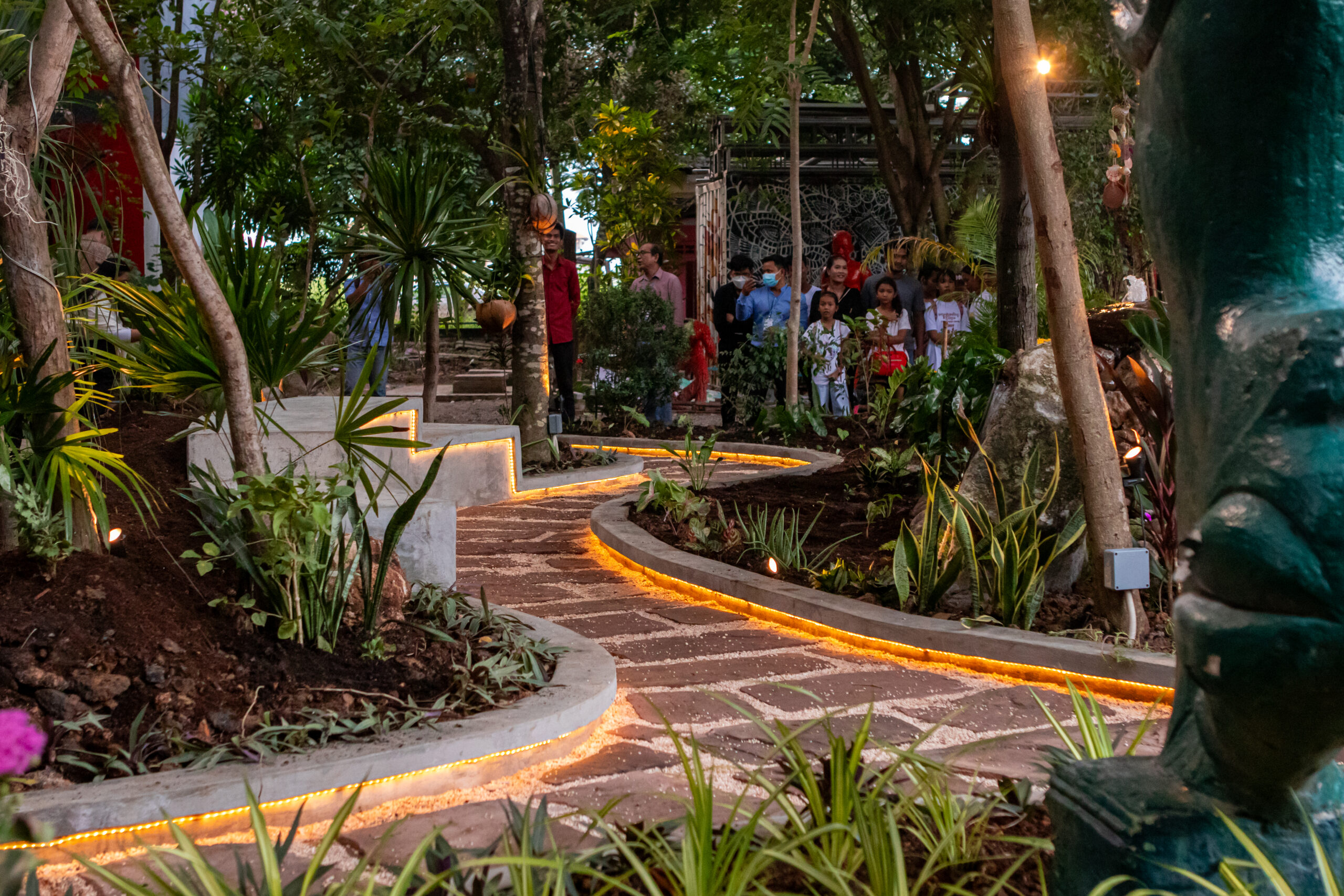 Photo credit: Juliette Deloron
Memories of Lokru Srey Bandaul from Friends & Family
LAM Lay, a writer and close friend of Bandaul, remembered him as a nature lover.
"Lokru Bandaul used to mention how connected he was to nature, and in particular that we are just a part of the universe that we can see," said Lay "We can't be disconnected from our soul, our body, or our life with nature."
The celebration of Bandaul's memory began at the first anniversary of his passing, when those closest to him suggested the idea of bringing his garden project to fruition. In recent weeks, the Phare team hastened the work, completing it on time for the two-year anniversary of his death.
DUK Otdom, Facilities Manager at Phare Ponleu Selpak, directed the work on the reflection garden.
"The team and I are very happy to have done this memorial because it's a mark of respect to the founder," said Otdom. "We also have a job thanks to him. We were his students in the beginning, and we learned a lot from Lokru Srey Bandaul. So, what we can do is share in return what he gave us. It's like a gift to him."
Thanks to Bandaul and the people involved, a fountain has been placed in the middle of the reflection garden, and you can now sit on the benches to enjoy the shade and coolness of the flower-filled area.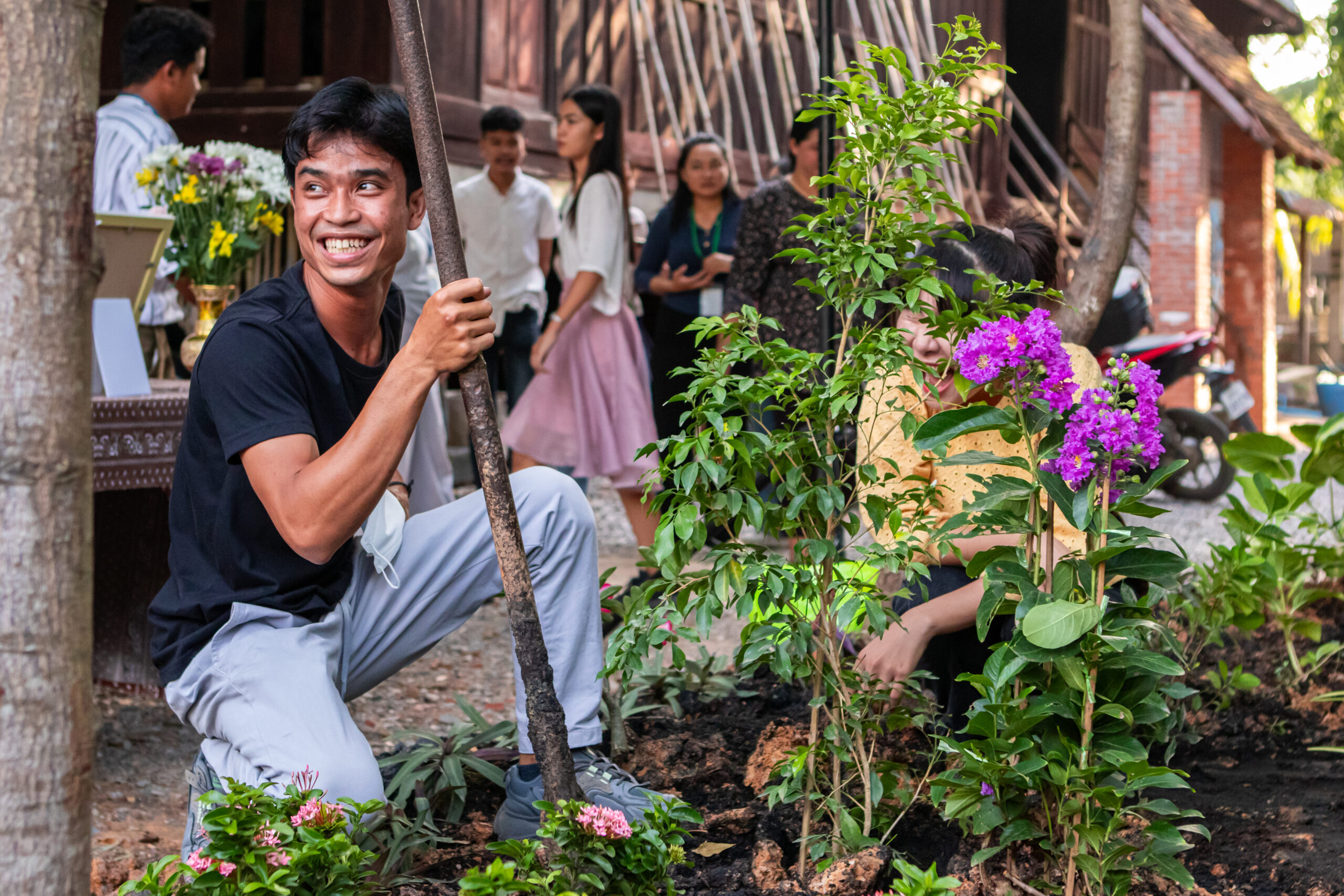 Photo credit: Juliette Deloron
Lokru KHUON Det, another co-founder of Phare Ponleu Selpak, had a few reflections to share.
"I am thrilled for the initiatives of creating this garden which is a place for everyone to sit here and relax," said Lokru Det. "The garden is also helpful for discussing other works or linked to art. This is a place for both teachers and students to sit and discuss ideas while also sharing adoration. As the founders, we'd like to thank our employees and the management team for their hard work in making this reflection garden happen. This garden is a representation of what students can learn about the founder's hard work and the history of Phare Ponleu Selpak. This is just one of many social work projects at Phare, and we still have more to do. Although Bandaul has passed away, as one of the founders, I promise to continue with the goal of assisting Phare in becoming more developed."
At the start of the ceremony, incense was lit and then placed on the altar where Bandaul's photo rested. Silent words were spoken by each one of the guests.
Paying tribute to the co-founder's love of the arts, five Phare students performed a traditional Khmer dance: "Moon of Love," captivating the audience.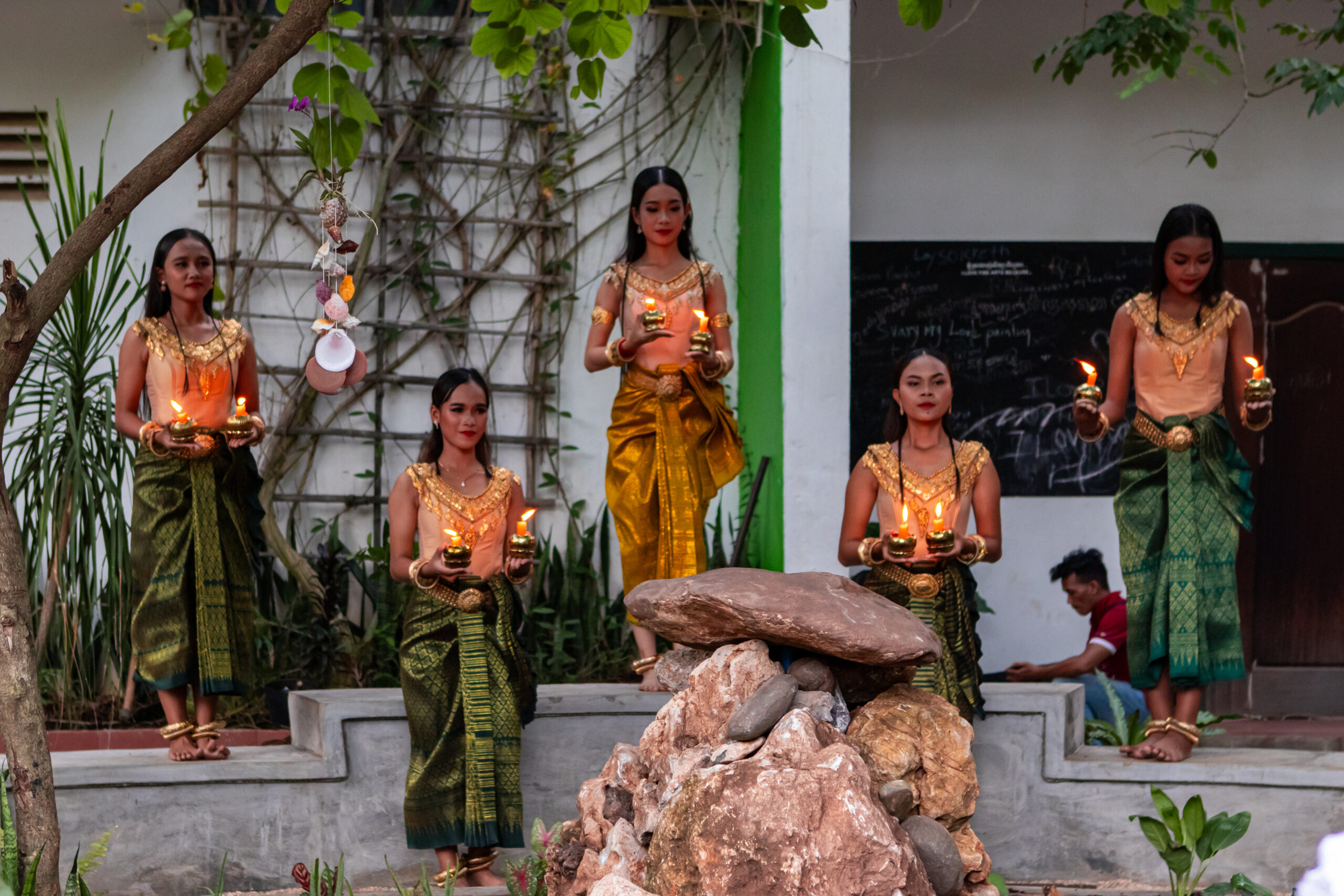 Photo credit: Juliette Deloron
At the ceremony, Osman KHAWAJA, Executive Director of Phare Ponleu Selpak, celebrated Bandaul's memory by speaking about how he continues to inspire all of us.
"Lokru Bandaul's vision, compassion, and kindness continue to inspire us," said KHAWAJA." The reflection garden honors Lokru Bandaul and his legacy. The love, attention, and effort put in by so many to realize this garden goes to show how much his compassion still lives with us. We know he was a lover of nature and plants, and we hope people from all walks of life can find respite under the shade of his trees, have meaningful conversations, and be inspired from all the beauty created collectively."
One of Bandaul's first students, Lokru POY Chunly, now a teacher, recalls his time with Bandaul.
"I have been a student at Phare Ponleu Selpak since 1998," said Chunly. "It was around this period that I met Lokru Bandual. His artworks pulled me in, making me want to attend to school back in 1998. Beginning at that point, the connection between instructor and student seems like a 'family' that is full of respect, knowing each other, and having nice conversations like those who have known each other for a long time.
"Every day when I got to school, all of his activities such as teaching, planting trees, gardening, and even working until 8 or 9 p.m. He gave everyone the opportunity to participate in and gain knowledge about art.
"We lost him, a lovely person we know, our teacher, our sibling, and we may sense this every time we stand exactly here in this reflection garden. Even if we're in two different worlds, we still feel close because I can still imagine him watering his plants and that's what I remember about him. The garden is a dedication for all of his tireless efforts and commitment over the years. Those who have succeeded through their hard work will be motivated if we do this."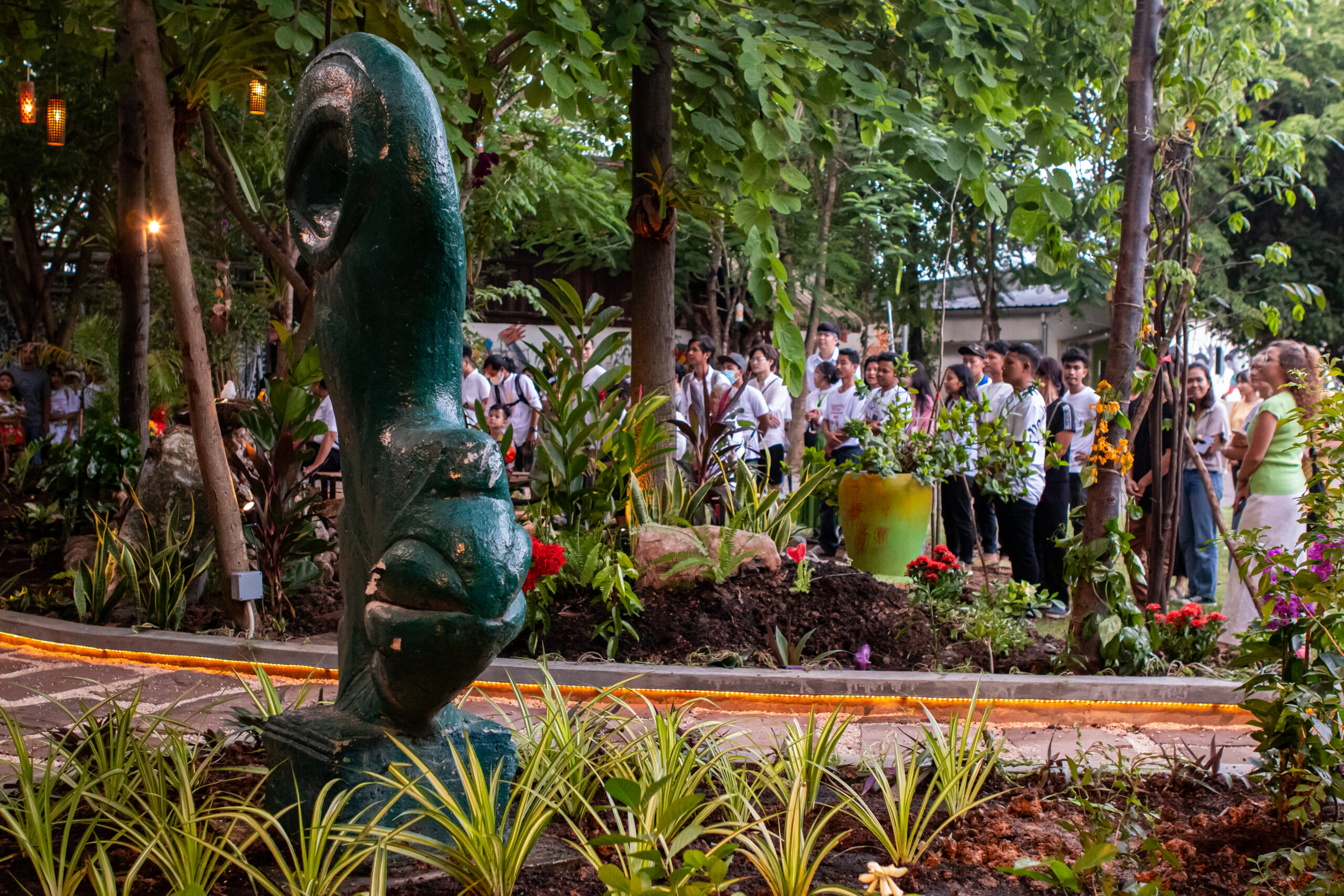 Photo credit: Juliette Deloron
Final Reflections
Although he is no longer with us physically, Bandaul lives on through the memories of his loved ones and now through the reflection garden at Phare Ponleu Selpak, which is filled with his energy. His passion for the arts and arts education shone through at the event and garden venue.
Sophorn, SREY Bandaul's wife, also shared some brief words at the inauguration ceremony.
"In this commemoration service, I feel so excited, and would like to thank everyone for attending this celebration," Sophorn said. "I can see many people still remember him and made this celebration happen. Many people also created this reflection garden which is full of memories. And right now, I feel both pleasant and thrilled."
Whether you're a visitor, student, or staff member at Phare Ponleu Selpak, you can use this reflection garden as much as you like, in any way you like, and the energy of Bandaul will accompany you.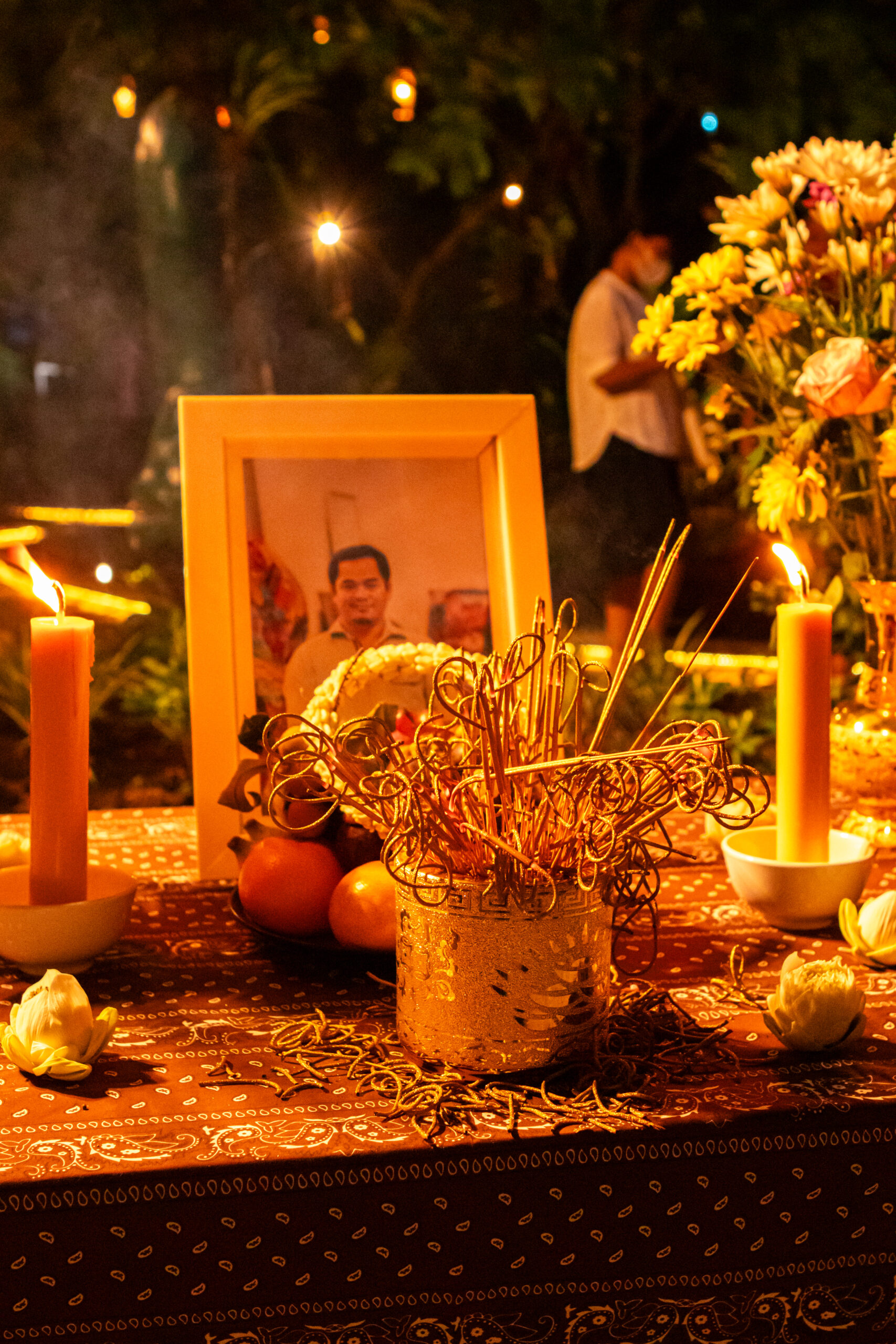 "We are fortunate to be born as human beings, and get to know other people around us, so we should be tolerant, forgiving, loving others because when we die, we can never see each other again. The Earth is just a temporary abode for all of us, so while living, as a friend, a brother, a sister, a father, a mother, a family, one must love each other. The Earth is a place for sharing love, experience, forgiveness, compassion to each other. We only live once; we have a chance which is 'now » to do all the good things because death could separate and take us away forever"
—Lokru Srey Bandaul, 2021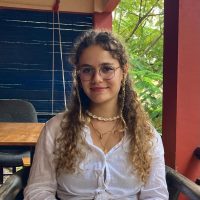 Olivia AUDO works as a communication intern at Phare Ponleu Selpak. She is looking to develop her writing and communication skills, and is particularly interested in the humanitarian and cultural sectors. She is currently a student at Sciences Po Toulouse in France.