Circus Shows
Don't miss out on Battambang's #1 attraction, our Guiness World Record-holding Phare Battambang Circus! Come to campus and experience a spectacular show by our talented circus, dance, theatre, and music students. Your ticket purchase funds the next generation of Cambodian artists and performers.
The Phare Battambang Circus
Come enjoy a performance of the Phare Battambang Circus!
All circus shows are performed by the current students of our Performing Arts School. These young people will later go on to perform at Phare, The Cambodian Circus in Siem Reap or on circus tours with other professional companies around the world (including Cirque du Soleil).
Your ticket purchase supports Phare Ponleu Selpak in many ways, such as salaries for the performers, circus equipment, accident insurance, and most importantly, by allowing us to provide entirely free arts education programs in circus, visual arts, music, theatre, animation, dance, and graphic design.
By visiting the Phare Battambang Circus, you're funding the next generation of Cambodian artists.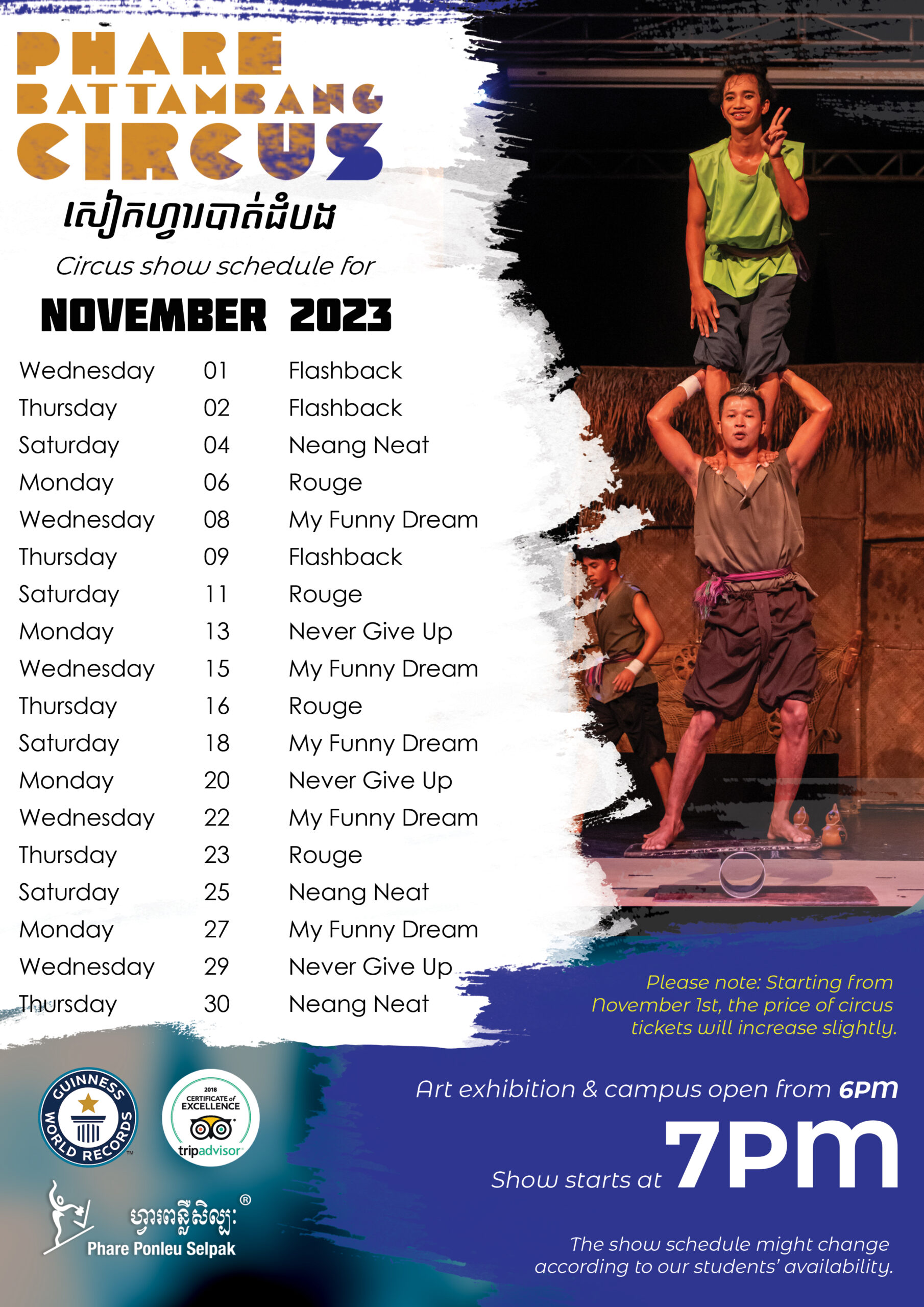 Tickets
Ticket prices:
$16 for adults
$9 for children under 12
Book your tickets online below or via:
Email: [email protected]
Phone: +855 093 554 413
Telegram/WhatsApp: 077 554 413
…or purchase them at the door!
Schedule
Shows take place Mondays, Wednesdays, Thursdays, and Saturdays starting at 7 p.m.
Join our Telegram group for the most recent updates.
Time
Shows start at 7 p.m., but you are welcome from 6 p.m. onwards to enjoy refreshments at our cozy campus café and browse our boutique of student-made creations.
Location
Phare Ponleu Selpak, Anh Chanh village, Ochar commune, P.O. Box 316 Battambang, Cambodia
Food & drink
At our campus cafe, you can purchase snacks, soft drinks, wine, and beer, which you are allowed to bring to the circus show.
Boutique
The boutique, which stocks artworks and designs by our students, is open before and after the show.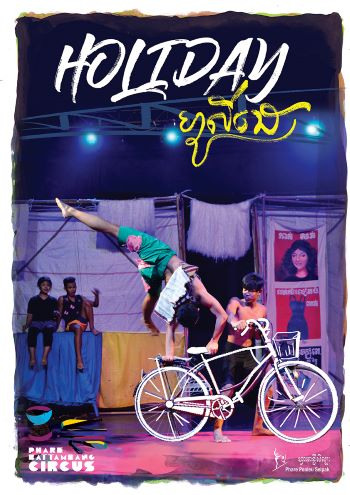 Holiday
Holiday is the story of Cambodian street kids, colloquially called 'Bong Touch Bong Thom' – meaning gangster in Khmer. They are scavengers, peddlers, beggars, thieves but above all are crafty and mischievous children. What if, just for once, these kids had a day off? In this show, our favourite rascals will see their dream come true… And their imagination has no limit when it comes to having fun and joking around! This story was inspired by the first group of circus students who escaped their daily duties and came to Phare Ponleu Selpak to learn circus tricks, have fun and aim for a better future.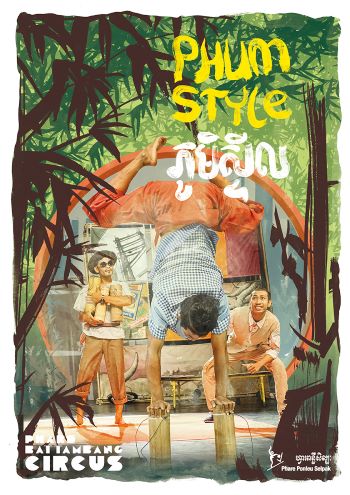 Phumstyle
Phumstyle is the tale of a young man who returns to his village after living in the big city. He helps to modernize his village after learning new ideas for improvement. The villagers are keen to follow his lead to help their households and country. However, not everyone approves of these new ideas. It is a story depicting love, change, and the effects of the city life on the lives in rural Cambodia. At the core of it all, the young man represents the moral lesson of returning to your home roots to contribute back to your community to share the gained lessons and wealth.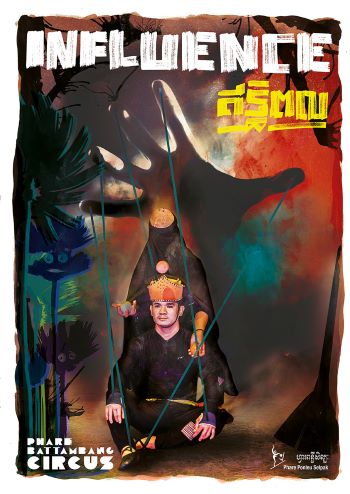 Influence
Influence is a dynamic story of the corruption, manipulation and domination that can come with power. Intrigue, antics, surrealism, and drama come together to create an unforgettable experience. It showcases the nature of the survival of the fittest, in which powerful people dominate over the weaker ones, and big animals eat the smaller ones. The struggles of both having too much power and no power are presented through a mix of theatre, circus and puppetry. Everyone, from prehistoric creatures battling over power to an ancient king being manipulated despite supposedly being of the highest rank, is seeking for triumph.
The moral lesson in the end is that no matter how wealthy or powerful you think you are, there can still be someone wealthier or more powerful. Putting others down or harming your country may end up haunting you because, who knows, karma might just come and get you back! Instead, discover your own strength and purpose in the world. This story about the influence of power is based on Cambodia, but it extends universally.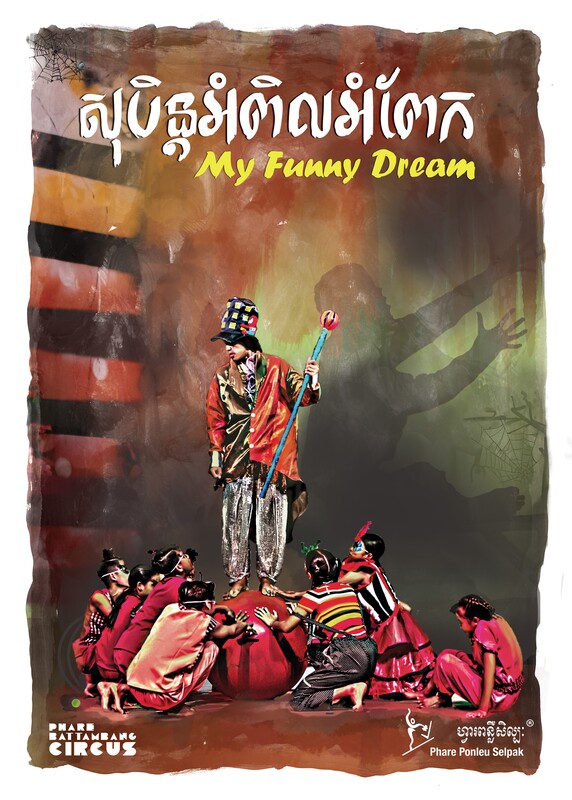 My Funny Dream
My Funny Dream is a story about a group of friends who always have fun and enjoy their time together. When one of the friends falls asleep, he has a dream about finding a magical stick with the ability to control others. The boy is happy with his new-found magical power, and he hypnotizes his friends with the stick to make them do whatever he wants. The resulting shenanigans are full of fun tricks as well as a bit of mischief. But what will happen once the boy wakes up from his dream?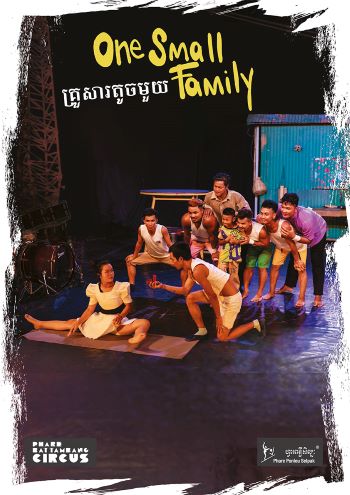 One Small Family
"One Small Family" is the story of a family in Cambodia where the eldest son has decided to leave his village and find work as a migrant in order to support his family. One day while exercising in his village, he meets a girl and falls in love. Now doubly motivated to earn money, the young man sets out on a journey and has many adventures. While away, all the young man can think of is the girl back home; he dreams of the day he can return home and start One Small Family of his own.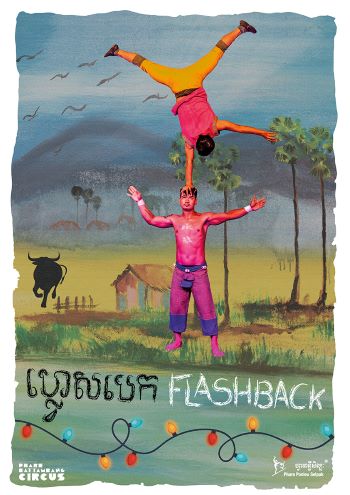 Flashback
Flashback is about a man leaving his hometown to go to a promising city, buzzing with nowadays opportunities, and modern infrastructure in a digital setting. He has so many dreams about his new life, his professional career, and the step forward he's about to take. He's leaving an old world behind to enter a brand-new one. But once he's there, he remembers his countryside village, where life used to be simple, and happiness was just around the corner. Where you could live on the rhythm of nature in a calm and peaceful environment. In his relentless efforts to move forward, he somehow seems to have lost his way back. He recalls the traditional festivals, with music and dance, and the huge family gatherings.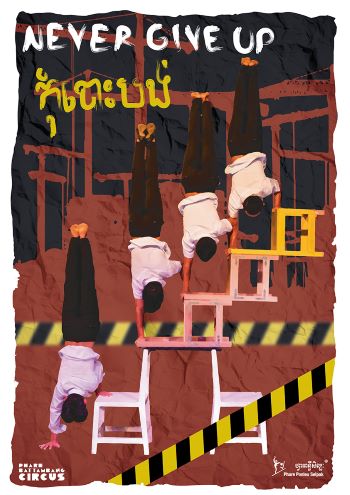 Never Give Up
"Never Give Up" refers to keeping up a positive spirit, especially during difficult times. The pandemic seriously affected the life of artists. You simply can't practice acrobatics if you have to stay one and a half meters away from each other.  
The Phare Ponleu Selpak Arts school had to close, and the artists survived financially thanks to several jobs, from tuk-tuk driver to construction worker, security guard, or table runner. However, they kept one guiding rule in mind: "Never Give Up" on your art. Luckily, they continued training individually, and today they're here again to perform for you on stage!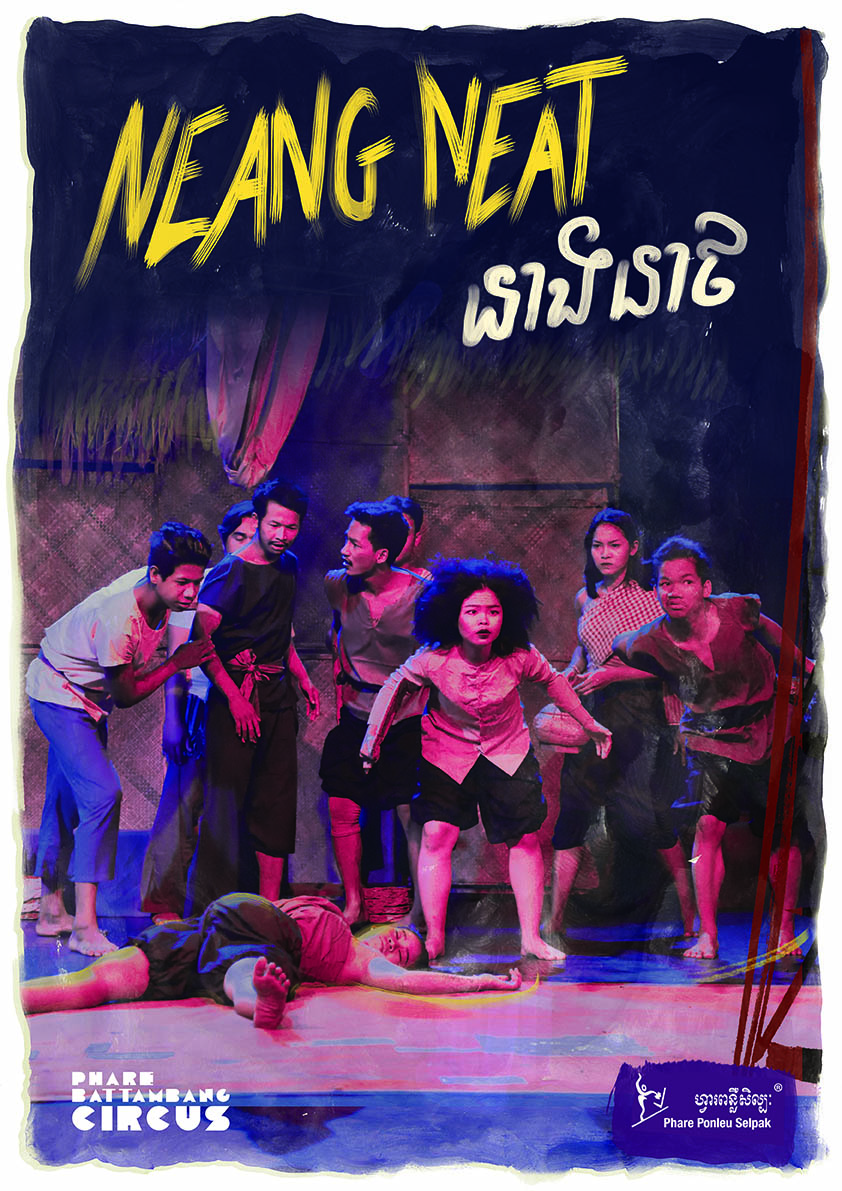 Neang Neat
A couple, Neat and her husband live happily in a small village. Neat dies when giving birth to a child, while her husband is away on business. She loves her husband truly, but waits for him to be back as an angry ghost. They continue to live together after he is back, him not realizing that she is dead. He does not believe what the villagers say to him about Neat either. He starts to be full of fear after understanding the truth, and asks for help from the grandma – a witch – who finally chases and sends Neat to her next life. Phare Ponleu Selpak shows this ghost-human love story involving its talented circus and music students in its Battambang Circus.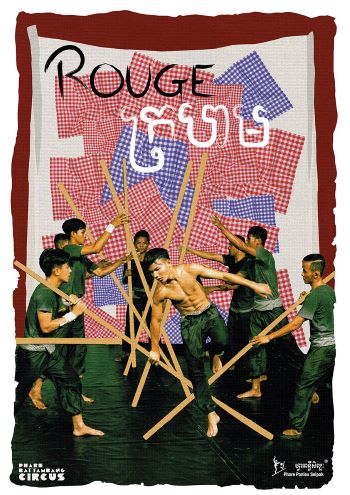 Rouge
Rouge encourages young Cambodians to talk about the horrible history of the Khmer Rouge regime, which dominated the country during the second part of the seventies. In the aftermath of the Khmer Rouge, many Cambodians suffered from mental illness, due to the terror they had experienced. When they came back home, they discovered that their land was taken by someone else, their families had disappeared, and their old lives were gone forever. By bringing this performance on stage, these horrible stories can finally come to rest.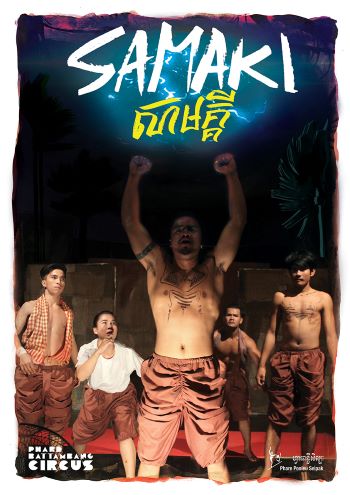 Samaki
In Khmer, Samaki means unity. In a quiet village, a girl is courted by three suitors. The first one is a powerful magician, the second one is very rich, and the third one is just an honest man. They are all crazy in love with the beautiful girl and some of them might use their power to win her heart and mind… But beware, dear suitors! Love is not something we can magically pay for. You'd better use your power with wisdom if you are not willing to hurt anyone… 
Samaki is a story of love, power repentance, and forgiveness. It also highlights the strength and benevolence of the community towards its members.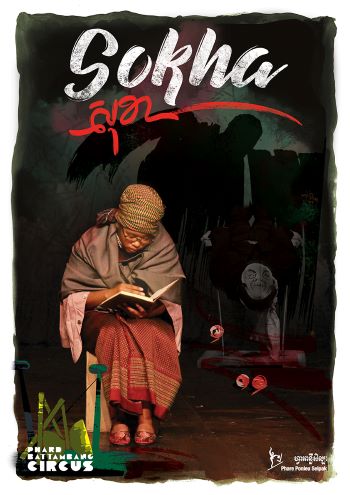 Sokha
Sokha is a child haunted by war. Her memories of the Khmer Rouge combine with surreal vision and nightmares to create a distorted and dark reality. But through arts, she discovers her strength and find the tool to heal both herself and her community. Based on the true–life stories of the founders of Phare Ponleu Selpak NGO School, Sokha is a powerful mix of dance, drama, contemporary circus techniques, live painting, and original, live music. The show highlights the long-term effects suffered by post-war victims and the way art provided a powerful way to heal and rebuilt the country.
Battambang's #1 cultural attraction
"I did not know what to expect. What I experienced was truly exceptional. The music, art, performances were at an extremely high level. This is a must see."

Other Ways to Experience
Phare Ponleu Selpak
More than just a circus, the Battambang campus of Phare Ponleu Selpak is a unique creative hub with our visual and performing arts schools, an exhibition space, an animation studio, and a boutique selling students' works. Take a guided tour to learn more about our NGO while visiting, enroll in an art workshop, or join one of our annual Battambang art festivals.

Looking for Phare Siem Reap?